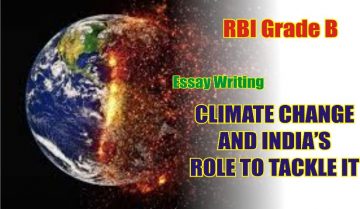 Climate Change and India's role to tackle it
Introduction
Climate change is a proven fact and is possibly the most serious environmental threats the world is facing today. Global warming has caused serious changes to the planet such as melting of glaciers, deforestation, and disappearances of species.
India is the 3rd largest emitter of Carbon Dioxide(CO2), accounting for 7% of the world's emissions. Albeit, India has accepted the impact of climate change, it has started initiatives by investing in vulnerable sectors like agriculture, water resources, and coastal areas……
Body
India decided to adopt a more pro-active, ambitious, and forward-looking approach in the run-up to the Paris Climate summit….for full essay, go for free trial for mock. Click here.