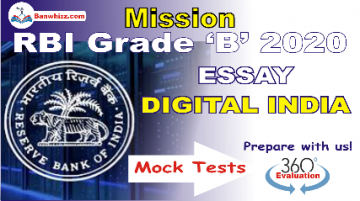 Digital Technology in India
Introduction
'Digital Technology' deals with the creation and practical use of digital or computerized devices which include social media, digital media, online games, multimedia, mobile phones, etc.
In order to promote digital technology in India, the government launched the Digital India Campaign on the 1st of July 2015 in presence of various business tycoons and various information technology companies in the country at the Indira Gandhi Indoor Stadium, Delhi.
Visions
There are three main visions of Digital India Campaign, which are as follows:
The first vision of this campaign is to set up a digital Infrastructure as a Core Utility to Every Citizen.
India is the second largest country in the world. There are approximately 6,50,000 villages and 2,50,000 panchayat members in the country. About 20-25% of the population is illiterate and as far as digital literacy in the country is concerned, about 90% of it does not know how to avail themselves of the digital technology. hence, once the remotest of the Indian villagers are digitally connected through broadband and high speed internet, the delivery of electronic government services to every citizen, targeted social benefits, and financial inclusion can be achieved in reality.
The second vision of the country is to provide to its citizens better governance and easy access to all the government services.
Over the years, a large number of initiatives have been undertaken by various State Governments and Central Ministries to usher in an era of e-governance. Sustained efforts have been made at multiple levels to improve the delivery of public services and simplify the process of accessing them.
The National e-Governance Plan (NeGP) was approved in 2006 to take a holistic view of e-governance initiatives across the country, integrating them into a collective vision. Around this idea, a massive countrywide infrastructure reaching down to the remotest of villages is being developed, and large-scale digitization of records is taking place to enable easy and reliable access over the internet.
The third vision of the Digital Technology Campaign is to provide access to digital resources for all kinds of citizens whether disabled or able.
Digilockers are highly remarkable in bringing about a massive change in the fast digitally transforming India. The documents or certificates stored in Digi locker are acceptable to all kinds of Indian agencies whether public or private.
India has a remarkable diversity in terms of languages written and spoken in different parts of the country. There are 22 official languages and 12 scripts. Knowledge of English is limited to a very small section of the population in the country.
DeitY (Department of Electronics and Information Technology) has initiated the Technology Development for Indian Languages (TDIL) programme for developing information processing tools and techniques to facilitate human-machine interaction without language barriers.
Conclusion
The implementation of digital technology is fast transforming India into a developed nation. However, India has to go a long way as with the advancement of digital technology, major challenges pop up on its way. Very balanced and logical progress is to be made in this connection to play safe with digital technology.
---
For more essays for SEBI Grade A, RBI Grade B Exams, click here