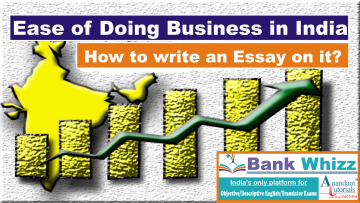 Dear Aspirant,
Ease of Doing Business is an index that shows how easy it is to run a business. It is published by the World Bank of India. This essay-topic seems to be important for Bank Exams. Let's try to write an essay on it in about 250 words. The following are the main headlines to be supplied with the relevant contents.
Definition of 'Ease of Doing Business' (EDB)
Position of EDB in India as against those which are ranked better
Benefits of EDB in a country like India
Challenges on the way to EDB in India
The state(s) which are ranked better in India
Measures being taken by India to ease business
Conclusion
Hints:
EDB index is published by the World Bank.
India is expected to reach 116.00 by the end of 2020 as per Trading Economics Global Macro Models
India jumps to 63rd position as against that in the year 2019 in World Bank's EDB 2020 Report with DB Sore of 71.0.
New Zealand has topped the EDB.
Andhra Pradesh, Gujarat, Maharashtra, Kerala are ranked better
EDB is important for employment generation, the introduction of newer technology, FDIs, FIIs, etc.
Red-tapism is the most challenging hurdle on the way to EDB. In addition, easy transport, road availability, cheap labour, promising market, skilled workers, etc. will help India be better in EDB.
Now, practice an Essay Mock on it. Note that better evaluation is needed by an expert however much knowledge you have about the topic.
Attempt the Mock Test