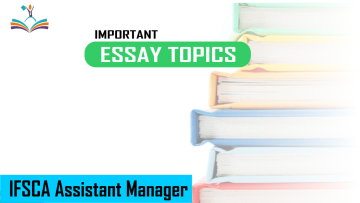 Descriptive English
Are you preparing for the IFSCA Assistant Manager exam 2023 and looking for potential / Important essay topics? We've got you covered! In this post, we have compiled a list of potential essay topics that could be asked in the upcoming exam. These topics cover a range of areas related to the Indian financial services industry, including Fintech, financial inclusion, digitalization, sustainability, and more. So, get ready to boost your essay writing skills and prepare for the IFSCA Assistant Manager exam with these potential essay topics!
Here are some potential essay topics for the IFSCA Assistant Manager exam 2023:
Role and Importance of the International Financial Services Centres (IFSCs) in the Indian Economy
Impact of Financial Technology (Fintech) on Financial Services in India
Opportunities and Challenges for Foreign Direct Investment (FDI) in the Indian Financial Services Sector
Evolution and Future of Cryptocurrencies in the Global Financial System
Role of Regulators in Ensuring Financial Stability and Consumer Protection
Indian Financial Inclusion Initiatives and their Impact on the Unbanked Population
Importance of Corporate Governance in the Financial Services Industry
Impact of Digitalization on the Future of Banking and Financial Services in India
Cross-Border Regulatory Cooperation for the Development of Global Financial Services
Innovation and Sustainability in the Financial Services Industry.
Challenges and Opportunities for India to become a Global Financial Hub
Importance of Financial Inclusion in Achieving Sustainable Development Goals (SDGs)
Role of Credit Rating Agencies in the Indian Financial System
Future of Alternative Lending Platforms in India
India's Approach towards Green Finance and Sustainable Investing
Role of Insurance in India's Economic Development
Impact of the COVID-19 pandemic on the Indian Financial Services Industry
Role of Digital Identity in Financial Services
Role of IFSCA in Regulating and Developing the International Financial Services Industry in India
Opportunities and Challenges for India in Developing a Vibrant Capital Markets Ecosystem.