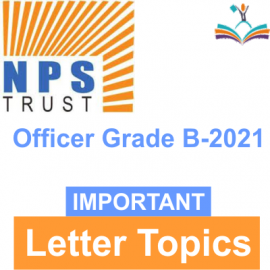 Dear NPS Trust Exam-2021 aspirant,
Letter-writing is an art. It must not be verbose. Just keep yourself to the point. Never waste your words in maintaining excessive formalities. You'd better start writing the given letter asking yourself whether the letter content is fully serving the purpose or not.
Bankwhizz has launched a 'Course Package' fully dedicated to the quality preparation for the NPS trust exam-2021. You will get study notes along with descriptive mocks fully based on the concerned exam. You will get a 360-degree evaluation from our expert on your dashboard within a short time period.
The following are the most important Letter-topics to be attempted under proper guidance:
Write a letter to the Manager to grant family pension on demise of a pensioner of your family.
Write a letter to the Manager on behalf of your father requesting him to release pension.
Write a letter to the eligible family members of yours convincing them to take COVID-19 vaccine.
Write a letter to the editor making an appeal to the people to participation in the COVID-19 vaccination drive, rejecting all kinds of rumors.
Write a letter to your younger brother, who works in a private firm and tell him the benefits of retirement/ pension plan.
Write a letter to the editor describing how the Indian economy would get out of the economic crunch arising due to the COVID-19 pandemic.
Write a letter to your younger brother convincing him to go for online classes for the preparation of his exams. Tell him the benefits and limitations of such classes and give him tips to overcome the limitations.
Write a letter to the SBI Pension Officer requesting him to make a wheel-chair available in the bank branch for elderly pensioners.
It so happened that your mother, who is a pensioner and is over 80 years of age, has lost her service book on the basis of which the life-certificate is issued. So, write a letter to the officer concerned requesting him to issue the life-certificate for uninterrupted pension.
Write a letter to the SBI pension officer complaining to him about the non-payment of pension for two months. Request him to release the pension resolving the issue.