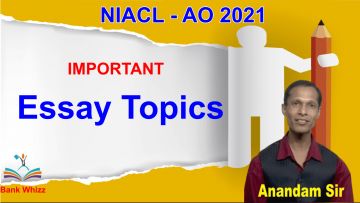 Our expert team introduces the most probable essay topics for all the exams and we feel pleased to say that our guess hits the bull's eye.
You are required to take down the following highly probable essay topics and start practicing on a virtual platform like ours. You can get valuable guidance from our expert by merely getting yourself registered for free.
Suggest measures how Insurance Companies can penetrate a wide area of the country
Challenges before the Insurance Companies for higher growth
How 74% FDIs can bring high growth to insurance sector in India?
Pros and Cons of the government's decision to allow 74% FDIs in Insurance Sector
Role of Insurance Sector in Financial growth in India
Increasing Insurance penetration in India
Bancassurance – Role of Bank in the growth of Insurance
Insurance to all – leaving no one behind
Socio-economic aspect of insurance
Mis-selling in insurance and how to prevent it
Cashless and paperless insurance
Disinvestment of PSUs: Pros and Cons
Privatization of Insurance Sector
Handling Fear of COVID-19 Pandemic
Role of Social Media
Artificial Intelligence
Importance of leadership quality in an organization
Importance of Marketing skills in an organization
Importance of good Decision-making skills in life
World's largest COVID-19 Vaccination Programme
Vocal for Local: How much it is feasible
Local to Global
Water crisis: A menace
One Nation one Ration Card
One Nation one Election
The problem of unemployment is deepening in the country
Is Lockdown the only measure to contain the COVID-19 virus
Ensuring Access of Online Education to all
Register for free and ask your doubts to the experts. You will get the model Essays in our paid courses.