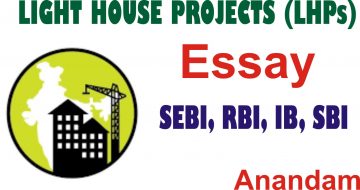 Introduction
Light House Projects (LHPs) are model housing projects in which houses are not built conventionally of brick and mortar but of such materials with such technologies that are more economical, sustainable, and of high quality and durability. PM Narendra Modi laid the foundation stone of such projects under the Global Housing Technology Challenge (GHTC) at six sites across six states on January 1, 2021. The main aim of LHPs is to transform India's urban landscape.
The technology used in Light House Projects is already in use in China, Australia, Africa and Gulf countries. Now, this kind of technology with some modifications compatible with India's geographical conditions will be used to construct model houses at Indore in Madhya Pradesh, Rajkot in Gujrat, Chennai in Tamilnadu, Ranchi in Jharkhand, Agartala in Tripura and Lucknow in Uttar Pradesh. Under the projects, about 1,000 model houses at each location along with allied infrastructure facilities will be constructed by the end of the year 2021.
Indore in Madhya Pradesh is said to be built with prefabricated sandwich panel system technology. The model houses at Rajkot in Gujrat will be constructed with monolithic concrete construction technology from France. The affordable model houses will be constructed at Chennai in Tamilnadu. At Ranchi in Jharkhand, 3-D model houses will be built with the technology from Germany while at Agartala in Tripura such houses will be earthquake resistant. The model houses at Lucknow in Uttar Pradesh will be built with pre-constructed wall technology from Canada. The beneficiaries of such model houses will also get water, electricity, LPG facilities under the government schemes.
Benefits
These six projects will boost the indigenous technologies for house-constructions.
The projects will open up a new career option for the youths of India. They will get training and certificates of expertise in this technology. Many of them would be engaged in research work thus contributing considerably to the technological advancement of the country.
The projects will generate a lot of employments in the country.
The projects will strengthen co-operative federalism in the country.
The weaker sections of the urban areas will get such houses fully based on green construction technology. Such houses will be made available at Rs. 4 Lakh each.
India is geographically a diverse country. Some areas are earthquake-prone, while some other flood-prone; some are full of plateaus while some are deserts. The model houses under the projects will be constructed in accordance with the geographical set-ups through compatible technologies.
Conclusion
As India is an emerging nation, it requires to be technologically advanced in all spheres of life. The LHPs will bring the country in the league of technologically advanced countries. A new dimension of research will attract a vast pool of youths. In addition, the projects will create a vast number of employments and so the projects are most welcome.