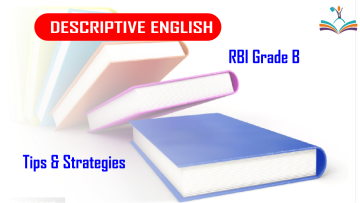 Are you planning to appear for the RBI Grade B 2023 exam and worried about the descriptive English section? Don't worry, we have got you covered. In this article, we will provide you with some useful tips and strategies to help you master descriptive English and ace the exam.
Understand the Syllabus:
The first step towards mastering descriptive English is to understand the syllabus. As per the official notification, the descriptive English section will have three components – Essay, Precis, and RC. The essay will carry 40 marks and needs to be written within 300 words. The precis will carry 30 marks and needs to be written within 140 words. The RC will carry 30 marks, and there will be five questions based on it.
Improve Your Vocabulary:
To write effectively, you need to have a good command of the language. A vast vocabulary will enable you to express your thoughts and ideas more precisely. You can improve your vocabulary by reading books, newspapers, and magazines. Make a habit of noting down new words and their meanings and revising them regularly.
Practice Writing:
The more you practice writing, the better you will get. Start by practicing essays and precis on different topics. Try to write within the word limit and maintain proper structure and coherence. Focus on the introduction, body, and conclusion. Use simple and clear language to convey your ideas.
Read Regularly:
Reading regularly can improve your writing skills significantly. Reading will not only improve your vocabulary but also help you understand how to structure your writing. Make a habit of reading different types of texts like newspapers, magazines, books, and journals.
Manage Your Time:
Managing your time is crucial while attempting the descriptive English section. You will have only 90 minutes to complete three tasks, and time management is the key to success. Allocate your time wisely to each task, keeping in mind the word limit and marks distribution.
For High Rankers:
High rankers usually have a vast vocabulary, a good understanding of grammar, and a strong hold over the language. They have a systematic approach towards writing and allocate their time wisely while attempting the tasks. They practice writing regularly and read extensively to improve their skills.
For Poor Rankers:
Poor rankers usually struggle with vocabulary, grammar, and structuring their writing. They often have difficulty expressing their thoughts and ideas clearly. To improve their skills, they need to practice writing and reading regularly. They should focus on learning new words and their meanings and revise them regularly. A thorough understanding of grammar rules will also help them improve their writing.
In conclusion, mastering descriptive English for RBI Grade B 2023 requires consistent practice and dedication. With the right approach and strategies, you can improve your skills and ace the exam. So, start practicing today and give your best shot at the exam. Good luck!