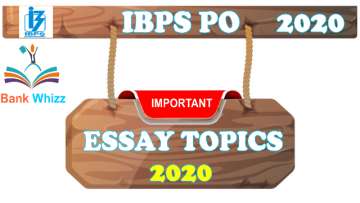 Bank PO is one of the most promising careers for all competitive aspirants that have done only graduation. Millions of aspirants apply ;for this post as it declares its vacancies.
Bank PO Exam is held in three phases – Preliminary (Objective), Mains (Objective & Descriptive) and Personal Interview.
The Descriptive Paper Exam consists of two sections – Letter and Essay Writing – carrying 25 Marks. The aspirants have to submit the answers online by the help of the key-board within 30 minutes.
Here are some highly important Essay Topics for better preparation for the Descriptive Paper English Exam. Please, don't take this paper for granted. Throw yourself into preparing for this paper right from now so as to fix one seat for yourself.
Now, start writing on the following Essay Topics. You had better prepare on a virtual platform under the guidance of some expert. Bankwhizz provides you with such a platform where you get holistic approach to its preparation.
Digital Literacy
E-commerce v/s Traditional business
Digital payment : Advantages and Disadvantages
Property Card Scheme is a landmark in making India Self-reliant. Do you agree?
PM-WANI Project
Dedicated Freight Corridor – India's flagship project
Reviving the Indian Economy after COVID-19
5-G technology in India : Scopes and Challenges
Importance of Vote in the Indian Democracy
Health is wealth or Money is wealth: Which is the more important?
Challenges of Higher Education
E-learning : Advantages and Disadvantages
Are Digitalization and Internet right or luxury?
Which is the worse of the two – Underemployment or Unemployment?
How to ensure Online Education to All?
Vocal for Local
Security concerns for women in India
Cyber security challenges before the Digital India
Socio-economic impact of COVID-19
Virtual meeting and its challenges
Biased Media
Social Media – its role
Challenges of inclusive growth during the Pandemic
Role of MSMEs in reviving the Indian Economy after the Pandemic
Towards 5 Trillion Dollar Economy
Contribution of Unorganized sector to the economic development in India
Challenges of conduction of nationwide examinations during the pandemic
Farm Acts-2020 – challenges