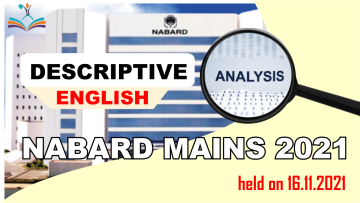 Here are the questions asked in the NABARD Grade A 2021 Descriptive English Paper:
The NABARD Grade A Phase 2 Paper I (Descriptive English) exam was held on 16th November 2021. It comprised three sections:–
Essay carrying 40 marks
Letter carrying 30 marks and
Précis carrying 30 marks
Total Marks – 100
The Essay Section consisted of four essay topics:
Dropouts in schools: Its causes and prevention
Benefits of the Social Media platform for farmers
Contribution of the Tourism sector to the Indian Economy
Workplace Diversity: Its measures for its promotion
As far as the first topic 'Dropout in schools: its causes and prevention' is concerned, it is quite a common topic. The essay should consist of four paragraphs namely
Introduction to the essay topic
Causes behind dropout
Preventive measures for dropout
Conclusion.
Introduction and conclusion matter a lot. Hence, these two paragraphs must be designed properly. You must supply facts and figures in support of the title. You should put the following data:-
Around 12.6% of students drop out of school in India, 19.8% discontinue education at the secondary level while 17.5% drop out at the upper primary level. Friend, education matters a lot and without proper education, the development of a nation cannot be imagined.
Then you should mention causes and preventive measures followed by the conclusion mentioning your opinion about the topic.
If you have written following this format for this essay, you would definitely fetch a better score.
The letter section carried 30 marks.
Write a letter to the editor of the newspaper telling the importance of developing sports infrastructure in India to create more Olympians.
Write a letter to the credit card company requesting to change your address associated with a credit card.
Write a letter to the block officer informing him about the pitiful condition of your village dispensary. The third section was of Précis carrying 30 marks. It was based on 'Uncertainty and its effect on health'.
Bankwhizz provides you with a good number of Descriptive Mock Tests with the fastest evaluation mechanism in India. Enroll yourself.