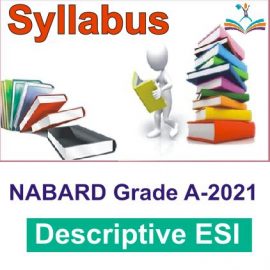 NABARD Grade A 2021 Mains (RDBS) Paper 2 General consists of Economic and Social Issues section. It consists of objective and descriptive questions.  It is made up of 100 marks, including 50 marks for descriptive ESI questions and 50 marks for objective ESI questions. In Descriptive ESI, 6 questions will be asked, of which candidates will be required to attempt 4 questions [2 of 15 marks each (with difficulty level) and 2 of 10 marks each]. The objective ESI will consist of 30 questions with a total of 50 marks.  The comprehensive NABARD Grade A syllabus is given below.
Nature of Indian Economy –
Structural and Institutional features
Economic underdevelopment
Opening up the Indian Economy
Globalisation
Economic Reforms in India
Privatisation. Inflation
Trends in Inflation & their Impact on National Economy and Individual Income
Poverty Alleviation and Employment Generation in India
Rural and Urban
Measurement of Poverty
Poverty Alleviation Programmes of the Government.
Population Growth and Economic Development
Population Policy in India.
Agriculture
Characteristics / Status
Technical and Institutional changes in Indian Agriculture
Agricultural performance
Issues in Food Security in India
Non Institutional and Institutional Agencies in rural credit.
Industry
Industrial and Labour Policy
Industrial performance
Regional Imbalance in India's Industrial Development
Public Sector Enterprises. Rural banking and financial institutions in India
Reforms in Banking/ Financial sector.
Globalisation of Economy
Role of International Funding Institutions
IMF & World Bank
WTO
Regional Economic Co-operation
Social Structure in India
Multiculturalism
Demographic trends
Urbanisation and Migration
Gender Issues Joint family system
Social Infrastructure
Education
Health and Environment
Education
Status & System of Education
Socio -Economic Problems associated with Illiteracy
Educational relevance and educational wastage
Educational Policy for India. Social Justice
Problems of scheduled castes and scheduled tribes
socio-economic programmes for scheduled castes and scheduled tribes and other backward classes
Positive Discrimination in favour of the under privileged
Social Movements
Indian Political Systems
Human Development