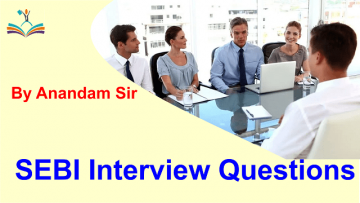 Dear Aspirant,
Don't take Interview for granted as this is the final phase that you have to crack for sure. Keep iron determination along with consistent effort for the purpose. Any laxity may mar all your efforts and nobody knows when you will get the similar kind of opportunities in future.
Bankwhizz provides you with free Interview Guidance.
The following are the most probable questions for the Interview. Make answers to all the questions given in your own words in black and white and then practice under the tutelage of some experts.
Get, set, go!
Personal Questions
Introduce yourself.
Describe briefly about your Academic Career with Higher Secondary onward.
Name the University you have done your Graduation from.
What is your Hobby?
What are your three strong points?
What are your three weak points?
What is your greatest Achievement so far?
What has been your greatest failure so far?
Why do you want to join SEBI?
Why do you think you can feel most satisfied with SEBI?
Are you afraid of shouldering responsibilities?
How do you look at new opportunities?
What do you think to be the most important thing about the job you want to join?
Do you think you are the most intelligent candidate among all those who are here?
Do you feel nervous when you are under the pressure of work?
How are you feeling at present?
How will you describe yourself to others?
How will you like to see in five years' time?
Do you decide all your important matters yourself?
With what sort of people you want to get along with?
What sort of people seems difficult for you to deal with?
What is your method of motivating others to do work?
Tell us something about the place you live in.
Is the place famous for something especial?
Do you possess leadership quality if yes, cite some examples?
How will you prove yourself working in the organization?
What are your hobbies?
Will the subjects that you studied in the course of doing Graduation be of any help in SEBI, if yes then how?
Have you appeared at any other interview before?
Suppose you were not selected, what would you do?
Do you have any job in your hand?
Why do you want to change your present job to join SEBI?
How will your work experience contribute to SEBI?
Why do you want to join SEBI? How do you find yourself suitable for the job profile of SEBI?
How is your education going to help SEBI?