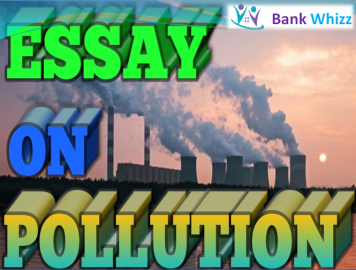 Pollution in general sense refers to the presence of a substance harmful to the living entities. It may occur either in the air or in water, in soil or in sound. It has reached its height affecting the entire eco-system of the earth.
With the growth of human civilization, man has been on the continuous to overpower nature. In order to get comfort and cater to the needs of a whopping population, deforestation has taken place. To get surplus food-grains, he has over-exploited soil and then contaminated it by using urea and pesticides to an alarming level and thus posing a serious threat to the very health of the living entities. The overuse of urea and harmful chemicals has contaminated reservoirs and even under-ground water, which has aggravated the situation. Rapid and non-stop growth of industrialization have affected the entire ecology on the multifarious level. Global warming, poor longevity caused by different diseases and mental disorders are the gruesome effects of pollution.
It is quite a matter grave concern that 22 out of 30 most populated cities of the world were there in India as per the report released in the year 2018. Air pollution itself causes premature deaths of two million Indians every year. The Capital City of India, Delhi suffers horrendously every year because of air pollution which rises more during Winter. In 2019, the Air Quality Index (AQI) has crossed the moderate limit of 100.
The industrial sector in India has witnessed rapid growth since the last decade of the 20th century with reforms in economic laws. The rising industry sector has contaminated a large arable land of about 159.7 million hectares contamination even water and air to an alarming level.
The WHO report reveals that about 98% of the Indian cities do not meet the norms. The pollution level has doubled since 2014. The Delhi NCR is the worst sufferer in the country. In order to combat pollution, the Delhi Government has taken strict measures such as Odd-even Scheme, promoting CNG run vehicles, boosting plantation programs, cracking down on large pollutants effulging industries, promoting renewable sources of energy and the other. Taking a lesson from the Capital City, other cities of India have also started taking steps to combat pollution of all kinds. To curb soil pollution, nationwide campaigns are being spearheaded against the use of plastic and the other.
However, the public contribution is a must in curbing pollution in the country. Only then can India be a place worth living.