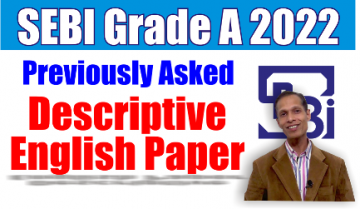 There is always a curiosity to know which kinds of questions were asked previously in the exam that an aspirant wishes to prepare for, and it is necessary. The previously asked questions help you prepare a concrete strategy. You in this way learn which kind of areas is to be touched upon which are to be left out. It helps you to keep your preparation on the right track. For obtaining a job, you need not be scholarly; you need not be highly intelligent. Rather, you need to know only those that help you get through all the phases of the examination.
The Descriptive English Paper is open-ended in nature and only a little attention to the right direction under the tutelage of some mentor will fetch you a better score in the exam. It may prove to be a game-changer and so keep going through various relevant articles from various sources. Watch relevant discussions conducted regularly on the Sansad TV on youtube. The facts and figures used by experts are authentic. Plus, you can subscribe to a magazine 'Yojana' for knowledge enhancement. If possible, please, discuss everything read with your peers.
There were three questions asked:
Essay – 30 Marks – 200 words
Precis – 30 Marks – 170 words
Reading Comprehension – 40 Marks – 5 Questions
Full Marks – 100
Total Time – 60 Min.
Note: The passage for the précis and that of RC were different.
The essay topics were:
The Importance of Team Work in an Organization
What is fake news? Identify it.
The pros and cons of Mergers and Acquisitions
How can Technology be used in preventing financial fraud?
The passage for précis was related to behavioral finance. It was easy for those who practiced a lot for this section. It was a mistake by many candidates that had left out a suitable title. Please, before you write the précis, supply an apt title around which your content revolves, else, your answer may get deviated from the main course.
The RC section was all about money.
So, friend, this is all about the analysis of the questions in the descriptive test. Please, follow what has been instructed to score better in this paper. Develop the drafting skill by writing on at least one topic on a daily basis, as you cannot develop this skill overnight. Bankwhizz is fully specialized for the preparation of this paper. We provide you with the highest descriptive English mocks with expert evaluation in the whole of India.