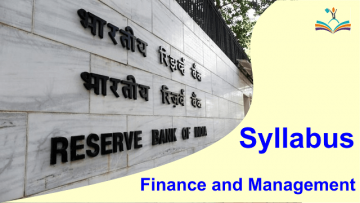 One of the most sought after exams, RBI Grade 'B' is a three staged exam, they are Phase I, Phase II & Interview.
In Phase II, there are total three subjects (Economics & Social issues, English Descriptive and Finance & Management) with composite marks of 300.
Now, Finance & Management plays a vital role in developing the financial and managerial concept of the student and hence acing the exam.
Syllabus of FM-
1. Finance


RBI and its functions, Banking System of India, Regulators of Banks and Financial Institutions, and conduct of monetary policy, Financial Institutions
Primary & secondary Markets
(Money, Forex, Equity etc.)- Functions, instruments, and developments.

Inflation: Definition, estimates, trends, consequences, and remedies (control) CPI – components and trends, WPI
Changing Landscape of Banking sector
The Union Budget – Indirect & Direct Taxes, Finance Commission, Non-tax Revenue sources, GST, 13th Finance Commission, Fiscal Responsibility and Budget Management Act, Fiscal Policy
Private and social cost-benefit, Public-Private Partnership, Alternate source of finance
Recent Developments in the Financial Sector, Disinvestments, Portfolio Investment, Public Sector Reforms
Basics of Derivatives: Forward, Futures, and Swaps
Risk Management in Banking Sector 
Financial Inclusion – use of technology 
Corporate Governance in Banking Sector ,the role of e-governance in addressing the issues of inefficiency in the government sector and corruption.
2. Management
Nature and scope
The Role of a Manager in an Organization.
Communication Channels
Steps in Communication Process
Communication types-Written Communication /Oral, Verbal / non-verbal, downward, upward, and lateral communication
Roles of Information Technology
Barriers to communication
Employees Welfare
Training and Development
Rewards
Leadership Styles
The Tasks of a Leader
Leadership Theories
An Effective Leader / A successful Leader. 
Mechanism
Other factors affecting corporate Governance
Morale and Incentive
How Managers Motivate
Theories of Motivation
Factors determining morale
Concept of Morale
Role of incentives in building up morale.
Reference Books:-
1. Indian Economy – Ramesh Singh, Mishra and Puri
2. Monetary theory and Public Policy -Kenneth Krihara
3. Public Finance – K K Andley and Sundaram
4. Financial Management – Prasanna Chandra
5. Economic Growth and Development – Mayer and Baldwin
6. Other important reference materials for the same:-
RBI Circulars, Reports & Government schemes
The Economic Times
Current Affairs
NCERT Business Studies (Class 12th)
IGNOU Management Notes