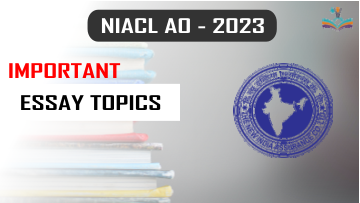 Are you gearing up for the NIACL AO 2023 exam and feeling overwhelmed by the essay writing section? Don't worry; we've got you covered! In this post, we've compiled a list of 41 crucial essay writing topics that are likely to be asked in your NIACL AO exam. These topics cover a wide range of subjects and will help you enhance your writing skills while preparing for the examination.
Role of insurance in financial security
Importance of health and life insurance
Pros and cons of online insurance
Cashless insurance: The way forward
Role of technology in insurance sector
Impact of climate change on insurance industry
Challenges faced by the insurance sector in India
Need for financial literacy in India
Importance of risk management
Role of insurance in reducing poverty
Insurance as a tool for social security
Pandemics and Insurance: Lessons from COVID-19.
Cyber Insurance: Navigating the Digital Risk Landscape.
Role of Artificial Intelligence in Risk Assessment in Insurance.
Cybersecurity Challenges in the Insurance Sector.
Health Insurance: Universal Coverage vs. Private Market.
Insurance Fraud: Causes, Consequences, and Prevention.
The Future of Insurtech: Trends and Innovations.
Sustainable Insurance Practices for a Greener Future.
Digital Transformation in the Insurance Sector.
Insurance for Disaster Risk Reduction and Management.
Insurance and Financial Inclusion: Reaching the Unbanked.
Ethical Considerations in Insurance Sales and Marketing.
Role of Regulators in Ensuring Insurance Market Stability.
Microinsurance: Bridging the Protection Gap for the Poor.
Health Insurance and the Aging Population.
Climate-Related Insurance Products and Climate Adaptation.
Insurance in the Gig Economy: Challenges and Solutions.
Reinsurance and its Role in the Insurance Industry.
Environmental, Social, and Governance (ESG) Factors in Insurance.
Insurance and Economic Development: Interplay and Impact.
Insurance for Small and Medium Enterprises (SMEs).
Gender Equality in Insurance: Closing the Coverage Gap.
Behavioral Economics and its Application in Insurance.
Risk Management in Personal Finance and Insurance Planning.
Challenges and Opportunities in Agricultural Insurance.
Insurance and Globalization: A Double-Edged Sword.
Insurance in the Post-Pandemic World: Resilience and Recovery.
Insurance Regulatory Changes: Implications for the Industry.
These essay topics encompass a broad spectrum of issues relevant to the insurance sector, technology, ethics, and societal challenges. Preparing for essays on these subjects will not only help in fetching better marks in the descriptive English section of the exam but also boost your chances in the NIACL AO 2023 exam. Also, it will deepen your understanding of the industry's dynamics and its role in the wider world. Good luck with your exam preparation!