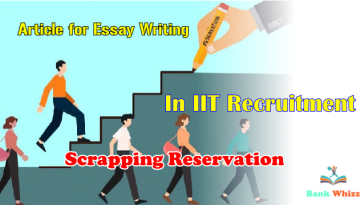 Excellent diversity: By removing reservations about IIT recruitment
Equality and universal education can make positive action useful.
The significant expansion of the IIT system since 2008, after the reservation was extended to student candidates in other backward classes, has created a difficult situation in which these institutions are unable to find enough qualified faculty members whose recruitment also meets the quota norms got to. According to the Central Educational Institutions (Reservation in Teachers' Cadre) Act of 2019, IITs must meet the important objective of positive action upon appointment. While the law allows it, the benefits cannot be extended to many due to a serious mismatch between demand and availability of technology research graduates. Last year IIT Delhi had a staggering 30% deficit in its teaching ranks and there are 23 such institutes in India, highlighting the extent of the crisis. These are large vacancies. The Ministry of Education engaged a committee to propose the effective implementation of reservations in key institutions such as the IITs for both student enrollment and teacher recruitment. The body, chaired by the Director of IIT Delhi, has developed two options: exempting IITs from quotas by including them in the schedule of the law of 2019 which applies to institutions of excellence, research institutions and entities of national and strategic importance; and to make a reservation on certain grades of assistant professors taking into account the whole institution. In the latter case, if no candidates are available, the positions can be reserved for the following year. An early decision must now be made by the government without sacrificing the principles of justice.
Diversity, achieved through positive action such as compensatory discrimination in favor of certain classes of citizens, corrects historical biases. However, in order for this to be fully realized, massive investments are required in the education system at all levels that can improve student skills. It is now widely accepted that replacing traditional privileges with opportunities and the right facilities dispels the myth of innate merit. Such an approach ensures justice for those who have been disadvantaged. The Ministry's Committee confirms this when it has a government sponsored preparatory program at IITs that can help eligible candidates familiarize themselves with quality academic work and, optionally, prepare for a doctorate if they wish to become teachers. This is essential as such graduates not only help fill vacancies in the IITs, but also support the large number of other technical educational institutions that strive for excellent research.Governments must seek gradual redistribution, for which politics equals opportunities should actively expand, starting with a strong, liberal public school system. This will add diversity and lay the foundation for the kind of scholarships that top institutions need.