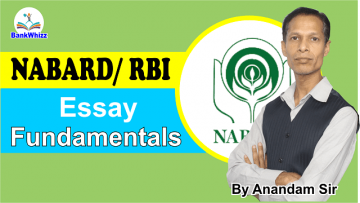 Namaskar Aspirant,
Hope that you are getting on well with your studies with indomitable confidence and sincerity. Wishing you a very bright career ahead, I am helping you build up your Descriptive Examination Skills. The Materials prepared here are adaptive and compact. The language is simple and easy-to-grasp. All the titles being eye-catching for examiners, are marks-fetching.
It is to be noted that 'Points speak louder than words; in other words, verbosity cannot serve the purpose and the efforts made may fall flat in fetching better marks. Hence, the contents have been made compact with points under suitable sub-headlines.
You are required to make practice of the Contents twice or thrice so as to have excellent performance in the examination.
The Contents are just my guessed out works; however, they will definitely develop in you insight galore to deal with the questions to be asked in the examination.
Hope, you will enjoy reading the Contents. I convey my best wishes for excellent score in the Examination.
Friend,
Writing an Essay is entirely a different skill. It requires:
(a) Descriptive Knowledge of various topics
(b) Sound Vocabulary (Words, Idioms/Phrases, One word Substitutions)
(c) Sound Knowledge of Current Affairs
(d) Good skill in data mining
(e) Healthy Thought Processing
(f) Strong Guidance
Now, What can Bankwhizz help you write an Effective Essay?
Dispel the Phobia of writing an Essay!
Just give answers to the questions asked and your Essay is ready.
Then why wait? Let, set, go!
Note: All questions are very short. So give full answers to the questions in your own words. You'll find some answers to the questions for your convenience.
Just enjoy writing Essays!
Your first topic
ORGANIC FARMING: OPPORTUNITIES AND CHALLENGES
Introduction
What is 'Organic Farming'?
Why are farmers, entrepreneurs, researchers, administrators, policy makers and consumers showing interest in organic farming?
Does Organic Farming help restore the soil health, protect environment, enhance bio-diversity, sustain crop productivity and enhance farmers' income?
Body (Detailed scenario of 'Organic Farming')
How many countries are practicing 'Organic Farming'? (179 countries in 50.9 million hectares of agricultural land (As per the data released in the year 2015)
What is the position of India in producing organic products? (Out of 2.4 million organic producers, 5.85 lakhs are there in India itself-thus the highest)
What is the total certified production (including cultivated and wild harvest area) under organic farming in India? (From 0.69 million tonnes in 2011-12 to 1.35 million tones in 2015-16-almost two fold increase in four years)
How many organic products that India produce at present? (sugarcane, oil seeds, cereals & millets, cotton, pulses, medicinal plants, tea, fruits, spices, dry fruits, vegetables and coffee etc.)
What are the government schemes to promote Organic Farming in India? (National Programme for Organic Production (NPOP) in the 2001, National Centre of Organic Farming in Gaziabad UP in 2004) and eight regional centres of India), e-portal www.pgsindia-ncof.gov.in etc.)
What are the schemes for promotion of Organic Farming in India? (National Mission for Sustainable Agriculure (NMSA), Paramparagat Krishi Vikas Yojana (PKVY), Rashtriya Krishi Vikas Yojana (RKVY), Mission for integrated Developoment of Horticulture (MIDH), National Mission on Oilseeds & Oil Palm (NMOOP), Network Project on Organic Farming of ICAR.
Opportunities
How can you say that India has a lot of Scopes / opportunities of 'Organic Farming'? (Biodiversity, Employment Opportunities in making vermicomposts, organic fertilizers, bio-fertilizers, organic pesticides)
Challenges:
1. What are the challenges on the way to 'Organic Farming in India'?
Hints:
Shortage of organic seeds.
Lack of an efficient marketing system from farmer to consumer.
Lower crop yields in some cases.
Low income during the transition/ conversion period hinders the spread of organic farming.
Non-availability of premium prices of organic products to the farmers.
Lack of technology packages for varying crop, soil, and climatic conditions. More research is needed to develop eco-friendly techniques for the management of weeds, insect pests and diseases in organic production systems.
Limited availability of organic manures and biofertilizers.
Complexities in certification processes, like, PGS (Participatory Guarantee System) and third-party certification.
Weak linkages among the organizations in the organic sector.
Lack of infrastructure.
The high cost of certain inputs.
Conclusion
Wishing to practice an Essay, Precis, Letter, and Reading Comprehension? Click here.