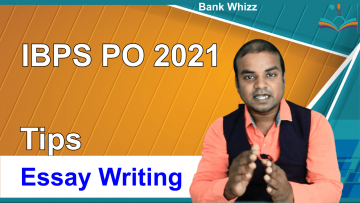 Essay Writing Tips for IBPS PO Mains 2021
Descriptive English is an important section in IBPS PO 2021 Mains. It consists of essay and letter having 25 marks in total. These two questions need to write in 30 minutes. The time allotted to each question is not defined.  It's up to you to decide how long you want to devote to a particular question. Ideally, you can devote 20 minutes to writing an essay out of 30 minutes. It should be written in 250 words.
There will be 2 to 3 essay topics out of which you need to write on any one of them. Before you start writing on it, think about 2 to 3 minutes, you have 20 minutes to write, do not start immediately. Start by trying to memorize everything you can remember and want to say about it. Then you draw it in a diagram or points.
In connection with that topic, What are they.
Positive
Negative sides
Advantage
Disadvantage
hurdles
Current Events
Any famous quotes
Reforms you suggest?
When you have written down all the points, all you can think about the essay, then start writing it in order. You do not have to write in complete sentences, instead write in points only. You may keep the following order
Introduction
Background/ Everything about it.
Principal concept/ theory/ what the topic is about.
The current scenario relates to that.
Positive sides
Negative sides / obstacles
Suggested reforms
Conclusion
Everything must be written in its place.
Bank Whizz specialises in preparing in descriptive English. Whizz Bank assists you with 360* to improve your score. Model Essay, Model letters, Articles, Outline for an Essay, Video Lectures and Descriptive Mock like Essay Mock, Letter Mock, Full Mock etc. are the tools with the bank whizz by which you get a competitive edge in the paper. Take advantage of the platform and mentor's guidance for your quality preparation in descriptive English.