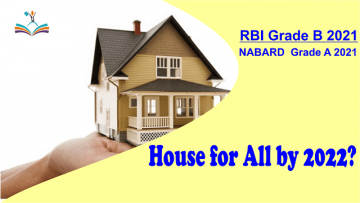 House for all till 2022
In 2015, the Government had announced Pradhan Mantri Awaas Yojana under which Houses will be provided to all till 31st March 2022. The interest rate for the scheme starts at 6.5% p.a. and will be available for 20 years. The budget for this scheme is Rs. 81,975 cr.
This Yojana has been divided into two categories, namely, PMAY (Urban) & PMAY (Rural).
PMAY (Urban)
Near about 4041 cities come under the scheme.
For all the senior citizens and especially -abled people, preference of the ground floor will be given.
Rs 4,95,838 cr. is the amount of the urban scheme.
There are 3 stages of the scheme:-
At first, 100 cities will be covered from April 2015 to March 2017.
200 cities will be covered from April 2017 to March 2019.
From 2019 to 2022 remaining cities will be covered.
PMAY ( Rural)
Except for Delhi and Chandigarh, every rural area will be benefited.
This scheme aims to build 4 crore houses for rural people.
The size of the houses can have a minimum of 25 sq m for rural houses.
Beneficiaries can get up to Rs.70,000 as a loan.
In the plain region, an amount up to Rs 1.20 lakh will be provided as monetary assistance and Rs. 1.30 lakh for hilly and difficult areas
They will be provided 90 to 95 days unskilled labor jobs under the MGNREGA scheme.
The scheme is also added to Swatch Bharat Mission Gramin which will give extra assistance of Rs.12,000 for toilet construction.
Eligibility criteria
A household with an annual income of Rs.18 lakh can apply.
They must not own any pucca home.
You should not have a Kisan credit card with spending up to Rs. 50,000.
Any government employee earning more than Rs. 10,000 per month.
Having a member who pays income tax.
Documents required for the Urban scheme
Attested application form
ID proof
Property documents like NOC from society etc.
Income proof
Documents required for Rural scheme
Aadhar card number.
Bank account details.
Job card under MGNREGA scheme.
Swaccha Bharat mission Gramin registration number will also be required.