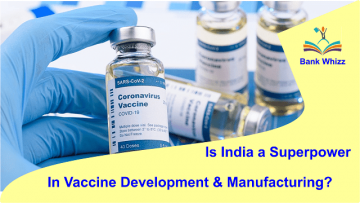 Is India a superpower in vaccine development and manufacturing?
With the breakneck speed with which the surging of smallpox started in the world, India initiated its head-to-toe hard work in developing the vaccine to eradicate this deadly disease with many fatalities.
The first vaccine came to India on May 1802 for smallpox and Anna Dusthall, a 3-year-old child became the first person in India to receive the vaccine on June 14, 1802. Then, the vaccine started getting transferred from place to place in India. By many smart works, and with continuous practices, India became successful in eradicating smallpox.
In 1893, the Cholera epidemic and in 1896 plague epidemic all over India created havoc which led to the serious development of a better Vaccination system in the country.
Dr. Waldemar Haffkine, suggested by the British government, came to India and tried out a successful cholera vaccine in Agra (U.P). With the success of the cholera vaccine, the Indian Government requested him to develop a plague vaccine also and provided him two rooms in Grant Medical College in Mumbai which is now the Haffkine Institute. In 1897, He successfully developed the plague vaccine, which was the first-ever vaccine developed in India.
Similarly, during 1904-1908, The Anti-Typhoid committee of the British Government carried out Typhoid vaccine trials in India.
During 1948, Tuberculosis was at its peak. The Government of India established A BCG vaccine Laboratory at King Institute, Madras (Chennai), Tamil Nadu. Till 1951, the BCG vaccine expanded through the mass campaign. Till 1980, four to five vaccines were practiced and inoculated in India.
Now, In 2020, the pandemic situation created a fleet-footed run for the medical frontiers and the scientists to create the vaccine for this deadly coronavirus.
Till today, different vaccines have been developed.
In 2020, covaxin is the homegrown vaccine for covid developed by Bharat Biotech which has a portfolio of 16 vaccines and their exports to 123 countries. Bharat Biotech says it has 20 million doses of covaxin and it will increase enormously by the end of the year. And the world's largest vaccine maker by volume, Serum Institute of India is manufacturing the vaccine covishield developed by British-Swedish pharma giant AstraZeneca and Oxford University.
After so many vaccines being developed and inoculated, It is worth saying that India is a superpower in vaccine developing and manufacturing.