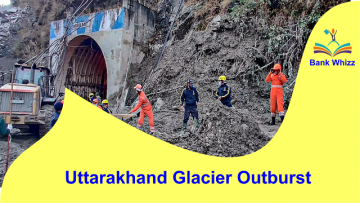 Uttarakhand Glacier Outburst
On 7th February 2021, Nanda Devi Glacier at Joshimath (Chamoli) splintered into the river, causing the Glacial Lake Outburst Flood (GLOF) in the Rishi Ganga, Dhauli Ganga, and Alaknanda rivers which killed several people and washed away two ongoing hydroelectric projects, namely, Rishi Ganga Hydel Project and Tapovan vishnugadh-Hydel Project.

GLACIAL LAKE OUTBURST FLOOD (GLOF)

The Lake which is formed underneath the space where breaking off of the glacier takes place is called Glacial Lake. And when the water level of the lake rises, it starts abrupt discharges from its reservoir or moraine causing catastrophic flooding. Unlike the other lakes, they comprise ice boulders that can potentially burst out.

WHAT CAUSES GLOF?

The most common reasons speculated are earthquake, erosion, High-intensity rainfall, low snowfall. But the real reason is yet not cleared. According to the scientists, there is no lake available underneath the glacier where this incident took place, but maybe water pockets had been formed underneath the Nanda Devi glacier which led to this incident.

WHAT RECENT STUDY SAYS?

A 2019 study published in the journal science Advancements based on the satellite observation of 40 years across India, Nepal, Bhutan, and China showed that glaciers are melting very rapidly and ultimately, creating a large number of glacier lakes since 2000.

COURSE OF ACTION

In the aftermath of the havoc, chief minister, Trivendra Singh Rawat has requested the central government for the establishment of the glacier research center to study the fall of glaciers into the Himalayas.