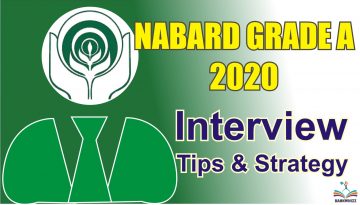 Dear Aspirant,
Interview is the final process for selection. It is an assessment of your appropriateness for the post you will be assigned to. After all, you're going to serve a Regulatory body. You must possess first of all 'Officer-attitude' which comprises excellent communication skills-both verbal and non-verbal.
You've a very short span of time for the preparation of Interview. Hence, what you have to do is to live like an Assistant Manager in Grade 'A' till the Interview. In other words, be aware of how you communicate with others.
Mark in yourself the following:
Whether you hesitate talking to others.
How much you've kept yourself updated with any news and event.
How you analyse any given topic.
How much you're aware of dress code and the code of conduct.
Don't forget
An Interview is a formalized conversation conducted for some specific purpose. Hence, be formal, precise, calm and composed.
Make a very good Pseudo-Curriculum Vitae mentioning each and every contour of your personality, such as 'Your E-mail address, Mobile No., Hobbies, Father and Mother and their Pursuits, Brothers and Sisters and their Pursuits, Your Academic Background from Matriculation down to the Present Academics in detail.
Avoid any gimmicky dress. Wear dress with sober colour. (Sky blue shirt and deep pants are, however, preferable.)
You can carry with you a very good-looking file. The file with you lessens your nervousness to a great extent. However, you may be prevented from carrying any of your belongings in the Interview Room.
Arrive early at the Interview Venue as it will make you relaxed and prepared for the purpose.
Purchase a newspaper before you go for the Interview. Read through it properly the Section which you cherish reading.
On reaching the Interview Venue, don't try to involve yourself in the strange group of Interviewees as they may lower your confidence.
Don't ask the Interviewee the questions which the Interview Panel has asked him/ her as it may make you tense in case you don't know the answers.
Take some water in case you feel a little nervous. Take it in such a way as if each and every draught of water is making you relaxed.
Before you enter the Interview room, take a few second's pause. Be mentally prepared, take a long breath and think that you are going to be at the Interviewers' disposal the best. In this way, you will definitely come out victorious.
Gently knock at the door to ask permission to come in; however a Gate Keeper keeps standing there for you to go in. Greet the Interviewers as 'Good Morning/Good Afternoon/ Good Evening Sirs/Sir/ Madam.
Until and unless you are told to sit in the chair, don't sit in the chair provided. If no order has come half a minute's time, just ask the Panel to sit. [Sir(s)! May I sit?]. don't forget 'Thank U'. Don't slouch in the chair. Sit with confidence with a smiling face. Don't sit with legs crossed. (However, it is fair for girls provided that she looks odd in that posture.)
 Don't fumble. Give a very smooth reply to the questions asked; however, for that a good many Mock Interviews under Experts is needed.
Always ooze with Confidence before the Panel. See into the eyes of the interviewers. Don't rub your nose.
Where necessary, give a smiling face.
Don't gesticulate a lot. (however, a little gesticulation is allowed.)
Don't raise your hands above your chest while answering.
Don't say 'sorry' without making a little effort on that (take 4-5 seconds' time). It is advisable that you should never try to say 'sorry' if some personal question has been asked.
Be prepared well on the Subjects you have done Graduation in.
Don't give answers as if you had crammed everything. Your answers should be smooth, spontaneous and well prepared.
You had better put forth your honest side of your personal profile. Don't fabricate any story as you will easily be caught with your fabrication by the experienced panel.
Bid 'Thank You' to all and slowly go out with a smiling face without looking back.
Now roll up your sleeves, get ready and go for the kill!
Wishing you all, all the best,
Fell free to call us
Bankwhizz