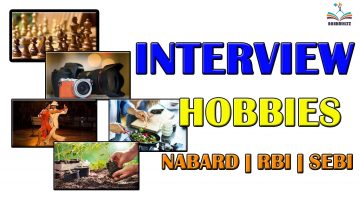 Dear Aspirant,
There is no person without hobby/hobbies. A person without a hobby is monotonous. He/she is just like a machine which keeps on doing tedious tasks. A hobby exhibits how a person reacts to any particular thing or situation. In fact, it exhibits the entire contour of a person's personality. This is the reason why the provision of Interview is there in Competitive Examinations.
That no aspirant should get confused in choosing hobby, here is a list of hobbies which may suffice. Try to choose the hobby that suits the work profile of the organization you wish to work at. In case, it is not so, keep with you strong reasons as to how your hobby can contribute to the organization.
Swimming
Gardening
Making Friends
Playing Cricket
Photography
Hiking
Dancing
Cycling
Listening to Songs (Devotional, Filmy, Classical….)
Singing Songs (Devotional, Filmy, Classical…..)
Net Surfing
Playing Mobile Vedio Games
Playing Indoor Games
Playing Outdoor Games
Chatting with people
Doing Yoga and Meditation
Reading Novels
Reading Religious Books
Cooking
Drawing and Painting
Making Cartoons
Riding Bikes
Making Tours to the places of Historical Importance
Reading Newspapers
Maintaining a Diary
Watching People
Playing with pets
Rescuing Astray animals (Dogs, Cows, Donkeys etc.)
Note:
You had better choose your hobby which should suit the Job Profile of Yours.
Possess sound knowledge regarding the Hobby you have opted
It is better to choose that hobby which you really cherish
Suggestible – Please, take sincere guidance from a highly experienced Interviewer for the purpose. (The interviewer may also be your faculty, parent etc. who help you boost your confidence.)
All the best!
Bankwhizz