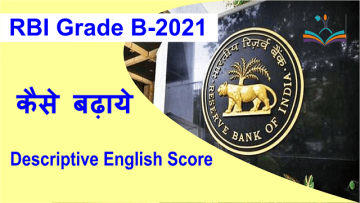 Dear Aspirant,
To score maximum in the Descriptive English Paper for Regulatory Body Exams, the subjective knowledge of Economic and Social Issues and Finance and Management proves helpful because the topics for essays, précis or comprehension asked in the exam are directly linked with these two papers. Keeping this in mind, the changed syllabus of the Second Phase of RBI Grade B should be a welcome decision. Bankwhizz therefore has started a series of lectures on ESI and FM for the sake of Descriptive English Paper.
So Friend, the more subjective knowledge you keep, the better it will be for ESI, FM and finally for Descriptive English. If you glance at the previous year topics, you will notice that essay, précis and RC sections generally pertain to economic and social issues and finance and management as suggested in your syllabus. So, study for the sake of subjective knowledge. Once you have gained a certain level of knowledge on varied topics, you need to frame those within the limited word and time frame, which will depend on how much you are good at writing skills.
The syllabus of ESI and FM provide you with basic knowledge, which is necessary for effective essays. The knowledge will help you in dealing with RC and Précis sections more easily. If we look at the previously asked essay topics, the topics were concerned with the know-how of economy and finance.
Let's have a glance at the Descriptive English Paper of RBI Grade B 2019
The essay topics were –
Higher Education
Stress among Youth
NBFC Loan Collection Issues
Importance of Vote in Indian Democracy
Scopes of 5G Technology.
The topics 'Higher Education', 'Stress among the Youths' and 'Importance of Vote in Indian Democracy' come under the syllabus of 'ESI' and the topic 'Scopes of 5G Technology' come under the paper 'Finance and Management'. If we look at the Précis section of RBI Grade B 2019, the passage for précis was based on 'Capital Account Covertibility' and the Passage on 'International Monetary Fund'. Both the Questions come under the paper 'ESI'. Hence, make these two papers ESI and FM strong for smooth dealing with the questions to be asked in Descriptive English. So, the more you have subjective knowledge of ESI and FM, the better it will be for Descriptive English. All the three are interconnected with one another. All the best!