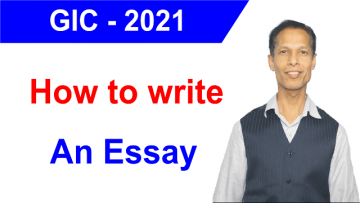 Dear Friend,
Insurance Sector has a lot of scope as this sector has penetrated remarkably less area of the country. The allowance of 74% FDIs in this sector has paved the path for higher growth in this sector. The Life Insurance Corporation (LIC) of India has managed to record double-digit growth of 10% in financial year 2021 amid COVID-19 pandemic. So, don't take this exam for granted and the preparation of Descriptive English Paper will create a difference.
Bankwhizz has provided you with a holistic preparation for this exam. You will get 15 Descriptive English Mocks with a sufficient number of model essays with guidance from experts. Visit www.bankwhizz.com and register for free for quality guidance.
Writing an essay is an art which requires:
Descriptive Knowledge of various topics
Sound Vocabulary (Words, Idioms/Phrases, One word Substitutions)
Sound Knowledge of Current Affairs
Good skill in data mining
Healthy Thought Processing
Strong Guidance
Apart from all the above, please, focus on the following:-
Your essay should be written in Simple Sentences. Avoid cumbersome words and sentences.
Avoid verbosity.
Your starting and ending must be forceful.
Stop for a while to analyze the Topic given.
Make a concrete strategy before jump to writing the essay.
Don't deviate from the point, which sometimes happens in absence of points and strategy.
Remain calm and composed in dealing with the essay you're writing on.
All the best!