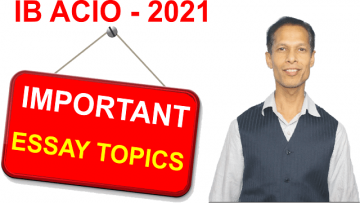 Bankwhizz issues highly important Essay Topics for all regulatory body exams including IB ACIO, SBI PO, IBPS PO, ECGC PO, GIC and the other for better preparation for the Descriptive English Paper Exam. Our perfect guess eases the preparation of the aspirants. Hence, throw yourself into preparing for this paper right from now on the given topics so as to fix one seat for yourself. Please, don't take this paper for granted as it keeps a lot of weightage in your final selection.
If we analyse the Descriptive English Paper of the Tier-2 of IB ACIO exam which was held previously three sections were there: Essay, Precis and Reading Comprehension. Please, look at the following:
Total Marks – 50
Total Time – 60 min
Number of Sections – 3 (Essay, Precis and Reading Comprehension)
Essay – 30 Marks (400 Words)
Precis – 10 Marks (250 words)
RC – 10 Marks (300 words)
Now, being a sincere aspirant, please, note down the essay topics which are most likely to be asked in the exam IB ACIO Tier-2 Descriptive English.
Most Probable Essay Topics – 2021
Naxal Attacks: Problems and Solutions
India's Internal Security Problems
Is India's Secular Image at stake?
Handling Fear of COVID-19 Pandemic
Roe of Social Media in Social Security
Value of Votes in Indian Democracy
Scope of 5G technology in India
Digital India Mission: Challenges
Artificial Intelligence: Technology of the next generation
Importance of Team Spirit in an organization
Importance of good Decision-making skills in life
Is Make-in-India Mission making India self-reliant?
Skill India Mission: Challenges
World's largest COVID-19 Vaccination Programme
Vocal for Local: How much it is feasible
Women Empowerment
Women Participation in Politics
Women entrepreneurship in India
Water crisis: A menace
One Nation one Ration Card
One Nation one Election
Handling Fake News
Making Media Impartial
The problem of unemployment is deepening in the country
Is Lockdown the only measure to contain the COVID-19 virus
Ensuring Access of Online Education to all