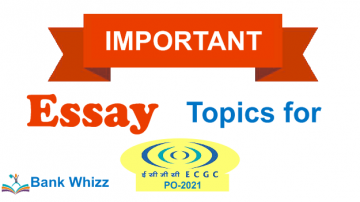 ECGC (Export Credit Guarantee Corporation) PO Exam – 2021 is one of the prestigious exams to be held in two phases – Online Written Exam comprising Objective and Descriptive Type Tests and Interview.
The Descriptive Paper Exam consists of two sections – Essay and Precis Writing – carrying  20 marks each and the time allotted for 40-Marks Exam is 40 minutes. Both types of tests (Objective & Descriptive) are to be submitted online by the help of the mouse and the keyboard.
Here are some highly important Essay Topics for better preparation for the Descriptive Paper English Test. Please, don't take this paper for granted. Throw yourself into preparing for this paper right from now on along with the Objective Type Test.
Now, start writing on the following Essay Topics. You had better prepare on a virtual platform under the guidance of some expert. Bankwhizz provides you with such a platform where you get personalized feeling for the concerned exam.
India's Vaccination Programme: Challenges
India's EXIM Policy
India has potentials to become a 5 trillion dollar economy by 2024.
The scope of Virtual Currency in India
India is moving fast towards Digital Literacy
Freedom of expression does not mean hurting sentiments of any community
E-commerce v/s Traditional business
Digital payment : Advantages and Disadvantages
Property Card Scheme is a landmark in making India Self-reliant. Do you agree?
PM-WANI Project
Dedicated Freight Corridor – India's flagship project
Reviving the Indian Economy after COVID-19
5-G technology in India : Scopes and Challenges
Importance of Vote in the Indian Democracy
Health is wealth not Money is health
Challenges of Higher Education
E-learning : Advantages and Disadvantages
Are Digitalization and Internet right or luxury?
Which is the worse of the two – Underemployment or Unemployment?
How to ensure Online Education to All?
Vocal for Local
Security concerns for women in India
Cyber security challenges before the Digital India
Socio-economic impact of COVID-19
Virtual meeting and its challenges
Biased Media
Social Media – its role
Challenges of inclusive growth during the Pandemic
Role of MSMEs in reviving the Indian Economy after the Pandemic
Contribution of Unorganized sector to the economic development in India
Farm Acts-2020 – challenges