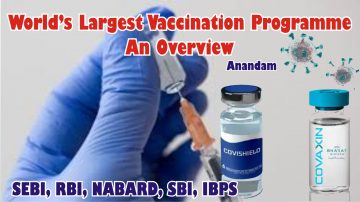 Overview
India is the second highest number of COVID 19 infections in the world next to the US. People had been living in trauma of this deadly virus for months; but On January 16, 2021, the country took a long sigh of relief from this trauma of COVID-19 when the world's largest Vaccination Programme began with two made in India vaccines – Oxford-AstraZeneca's 'Covishield' and Bharat biotech's COVAXIN, covering over 3 lakh healthcare workers on the day one at 3,006 sites across all states and union territories.
The world's largest inoculation programme is based on the 'priority base principle'. It is a two dose programme with an interval of 28 days. It is believed that immunity would begin to kick in after the first dose but reaches its full effect 14 days after the second dose. In PM Narendra Modi's words:
'Our Vaccination programme is driven by humanitarian concerns, those exposed to maximum risk will get priority.'
The programme will vaccinate 1.3 billion people against COVID with the help of an app, which would help the government track the drive and ensure that nobody is left. Mass awareness is being spread for the safety protocols like wearing masks and following social distancing. Any propaganda or rumours about the safety of the vaccines should not be entertained.
The jabs are voluntary and the recipients will get a certificate of vaccination after they complete both the doses. The cost of vaccination of healthcare and frontline workers will be borne by the central government. In case, the vaccinated undergo any risk, it is the central government's responsibility to bear all kinds of expenses or losses.
Challenges
The main challenge for the government is to bring the vaccine to each and every door of the country. Still a large chunk of people is without a smart phone. The mobile app to track the recipients will be a formidable task in this way. So, It will be very interesting to see how the country will reach out to 1.3 billion of population for vaccination. The second challenge is the propaganda and rumour being raised against the vaccines. Some factions of the society have already expressed their reluctance to taking the jab for it may cause infertility. So, a proper mechanism must be built to deal with such propaganda and rumours. Plus, the government's orders of 50 lakh doses for the indigenously made COVAXIN the final report of which is yet to come, has triggered a little fear among the masses. So, how the government's mechanism dispels this fear will be a big challenge.
Conclusion
India finds itself standing firmly in the league of those countries which have made their own Corona Virus vaccines. It is proud of the efficacy of the two made-in-India vaccines. However, precautions against the Virus can never be ignored. Masks and social distancing are still two 'mantras' to keep away the disease.