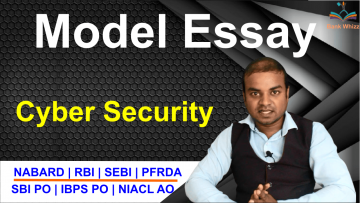 Dear aspirants,
Bank Whizz has a specialty in descriptive English. We regularly provide quality study materials on this website as well as on YouTube for the descriptive Section of NABARD Grade A/B, RBI Grade B, SEBI Grade A, PFRDA Officer Grade A, SBI PO, IBPS PO, NIACL AO, and other banking and insurance exams.
In this article, we are providing a model essay writing on a very important essay topic.
Model essay on "Cyber Security"
If we look around the world, we will see that we live in a digital age where the importance of information technology is constantly increasing as it comes into the performance of our everyday activities. Similarly, India is moving very fast in this direction through its 'Digital India' platform. But, keeping in view the growing impact of cyber attacks, it should have a well-organized cyber security infrastructure. In the following paragraphs, we will discuss the steps taken by India to develop it.
          India implemented the National Cyber ​​Security Policy in 2013. In 2012, the Government of India established a Joint Working Group on Public-Private Partnerships in the field of cyber security. In 2016, it took a significant step forward with the launch of the National Cyber ​​Security Task Force by NASSCOM. In cyber-malware attacks like WannaCry and Petya during the Kundankulam nuclear crisis, all …
 To read the complete model essays and more essays click here…