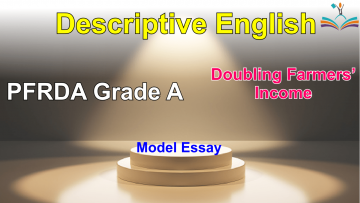 Dear PFRDA aspirants,
Bank Whizz has a specialty in descriptive English. We regularly provide quality study materials on this website as well as on YouTube for the descriptive Section of NABARD Grade A/B, RBI Grade B, SEBI Grade A, PFRDA Officer Grade A, SBI PO, IBPS PO, NIACL AO and other banking and insurance exams.
In this article we are providing a model essay writing on a very important essay topic.
Model essay on "Doubling the Farmers Income by 2022"
Farming is said to be the oldest profession of mankind. When agriculture was discovered and organized, it led to establishment of civilizations and later urbanization. An integral part of this ecosystem is a farmer. This was even recognized by Artha-Shastra and Puranas, wherein even a king never shied from ploughing a field in his spare time. The Artha-Shastra also forewarns that when farmers suffer due to war or high taxation, famines were the unintended consequences.
Yet, even after 70 years of Independence from British Raj, we have failed in implementing policies which can usher farmers in the modern era of capitalist economy. Farming constitutes only 15% in Gross Value Added (GVA) of the country, but …