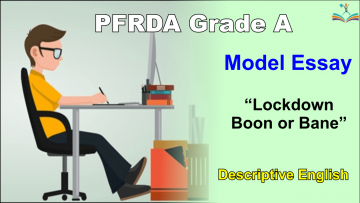 Dear PFRDA aspirants,
Bank Whizz has a specialty in descriptive English. We regularly provide quality study materials on this website as well as on YouTube for the descriptive Section of PFRDA Officer Grade A, NABARD Grade A/B, RBI Grade B, SEBI Grade A, SBI PO, IBPS PO, NIACL AO and other banking and insurance exams.
In this article we are providing a model essay writing on a very important essay topic.
Model essay on "Lockdown – Boon or bane"
At the end of 2019, the world moved into a new phase of life due to the COVID-19 pandemic. COVID-19, also known as the coronavirus, is a rapidly transmitted infectious disease through human contact. This virus is native to China and was propagated by a bat. Within a short time, the virus has spread all over the world, including the most isolated tribes of the Antarctic region. In an effort to stop the spread of the virus, a large number of countries have declared lockdown where people did not have the right to move freely, except for basic items. They were subject to certain limitations on timing, mandatory masking, etc.
The impact of lockdown on the global economy has been significant. It has had an impact not only internationally, but also on the national and individual levels. It completely changed everybody's life. It closed…
For complete model essay and various other model essays click here…