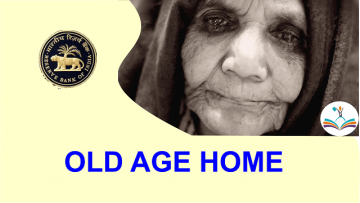 Introduction:
Old Age is that inevitable phase of the human cycle that everyone has to face in his/her life and in a particular time zone. It is that age when elders actually need love and care from their family.
What do the data speak?
There are around 728 Old Age Homes in India at present. Out of these, 325 homes are free of cost while 95 old age homes are on a pay & stay basis, 116 homes have both free as well as pay & stay facilities. According to the Census 2011, there are nearly 104 million elderly persons in India, out of which 53 million females and 51 million males are there. A report reveals that the number of elderly persons is expected to grow to 173 million by 2026.
Background
Earlier, there was a system of the joint family that vanished due to different facts, and then came the nuclear family system. With the attraction of technology, better facilities, and in order to make career successful, many children migrated to different countries leaving their parents alone with their relatives. As a solution to this, the old-age home was started for those elderly people whose children became NRIs or working outside the city.
But in present days, it is becoming a natural phenomenon and fashion of leaving parents in old age homes.
The word itself defines the atrocities on the emotions of the senior citizens who devote their whole life to nurturing their children but what they get in return is a depressing life where personal touch and care lack. These homes charge monthly rents which is not always possible for every senior to pay as many are pensioners and many get low amounts from their children. Old-age homes cater to different facilities according to the amounts they get. Also, there are many complaints reported about the bad management and poor hygiene of the old-age home despite the hefty amounts taken by them from the family or children of the senior citizens. Some provide very low-quality food and abuse the elders physically & mentally if they ask for more food.
Conclusion
However, not all the old-age homes are bad as some run a non-profitable business free of cost living and better-caring facilities. There are many senior citizens who are just homeless and have no family members to rely on and for old age, home is the only place to spend their life under the guidance of its members; also they get the companionship of the people of their age group.