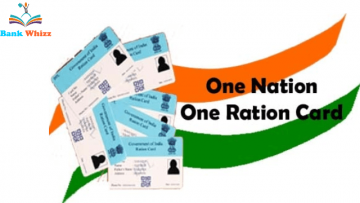 Introduction
One Nation One Ration Card Scheme is a flagship scheme proposed by the NDA government in which the ration cardholders can access PDS benefits from any Fair Price Shop (FPS) irrespective of any place in the country. This scheme has been announced as a relief measure for millions of India's migrant workers. The scheme played an historic role during the COVID-19 pandemic.
On January 20, 2020, Union Minister Ram Vilas Paswan announced that the NDA government's ambitious scheme 'one nation one ration card' would be rolled out to the whole of India from June 1, 2020. At present, 20 states in India have adopted this scheme and have implemented ration card portability in their jurisdictions. Soon the scheme will further be extended to the remaining states by March 2021. Around 81 crore people are entitled to obtain food grains at subsidized price rates from their FPS under the National Food Security Act, 2013. Under the 'One Nation, One Ration Card' system, such beneficiaries will be able to access food grains from any FPS across the country through bio-metric authentication on electronic Point of Sale (ePos) devices already installed at FPSs.
Challenges
Only 42% of PDS beneficiaries have been covered even after 73 years of India's independence. So, it is a herculean task for the government to make ration cards available to all the needy under the 'One Nation One Ration Card Scheme'.
A large chunk of the labour force mostly covered under NFSA is either inter-state or intra-state migrants. In such a case, it will be a great challenge for the central repository to ensure that no duplicate ration cards and beneficiaries should exist in any state or UT. It must be ensured that the allocation of the food-grains to states would be dynamic, based on the lifting of food-grains captured monthly across states.
On the storage distribution front, Food Corporation of India (FCI) godowns will have to operate in tandem considering the needs that arise in particular states.
Another challenge is the installation of ePos machines which can calculate the huge labour force changing pattern across the country. At present, around 77% of FPSs-4.2 lakh of the 5.34 lakh operating across the country-have installed such machines. Still, more and more machines are to be installed for accurate calculation and thereby ensuring food-grains to the beneficiaries at subsidized rates.
In many cases, ePos machines undergo a connectivity issue. Without the internet, the real-time calculations are not made and thus the 'One Nation, One Ration Card' system gets badly affected.
Seeding the Ration cards with Adhar Cards is still a major challenge on the way to implementing the 'One Nation, One Ration Card' system across the country. Bihar, West Bengal, and UP are still lagging in this connection.
Still, a large number of FPSs are not equipped with ePos machines, making it difficult to implement the 'One Nation, One Ration Card' system. More and more use of technologies like installation of ePos machines at FPSs and computerization of supply chain management of FCI operations would help in increasing the overall efficiency of the entire process while maintaining transparency and controlling corruption.
Still, many states are lagging in implementing the 'One Nation, One Ration Card' system. So, they will have to be on-board in terms of adoption of technologies to avail its benefits to the needy under NFSA.
Conclusion
Challenges are many and the progress is going on. Once the target of 100 percent of Aadhar seeding and installation of ePos machines is achieved, the national portability of ration cards will become a reality.