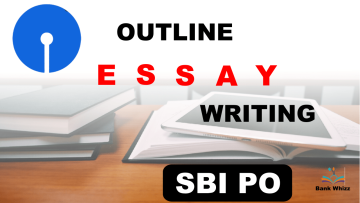 Dear Aspirant,
Essay-writing is easy provided that you keep in mind some highly important key points. The Method employed will certainly develop an insight into this skill that will help you get better marks in this section. Please, follow the following key points:
Avoid writing longer sentences. Mahatma Gandhi suggested using simple sentences.
Avoid employing cumbersome words and phrases.
Don't get distracted from the main idea. Employ all those facts and figures that strengthen the idea.
Be precise.
Organize your thought in a compact way.
However much knowledge you may have about the given topic, your efforts will fall flat unless you stuff your thought within limited words and time.
Finally, you must get your essay evaluated by an expert.
Now Take a look at the following Essay Title using the very effective technique called 'dot-connecting technique':
Memorable Points: At a glance
1. Introduction to Depression
2. Facts and Figures showing that India is likely to be hit by Depression owing to COVID-19
3. Government Measures taken in this regard
4. Challenges to implement the measures
5. conclusion
Now Just keep giving the answers against all the questions asked in your own language in brief:-
1. What is Depression?
2. Which facts and figures that you supply in this connection?
3. Have the Indian stocks plunged?
4. Have the economic activities gone down? Show facts and figures.
5. Has the employment generation mechanism stopped?
6. Has the GDP of the country come to a standstill or gone down?
7. Has the cut in bank rates failed to boost the economic activities?
8. Is it due to the global factors?
9. Have the global rating agencies lowered the Growth rate of the country?
10. Has any statement been passed against the Indian Economy by any organization of great repute either in the country or outside the country?
11. What are the measures being taken to avert this situation in the country?
12. What may be the challenges that may overtake the Economy?
13. What should be the conclusion?
Now, start giving answers to the questions given above. Finally, cohere all the answers and your Essay is ready. Isn't is simple?
Note: However, the answers to the questions are not so simple. You will have to start collecting facts and data from different sources.
VVI Note: Develop the power of asking questions to the title of the Essay. This insight will help you tremendously in writing an effective essay fetching you good marks.
Now, what have you to do? Just arrange all your answers. Your Essay is ready. Isn't is simple? Once, you've assembled all your answers, be prepared to submit your Answer on our Descriptive Online Mock Test Platform and get it reviewed by our experts. Bankwhizz assures you of excellent marks in this Section. Please, take advantage of all the facilities of ours.
Wishing you all the best!
Anandam
Bankwhizz