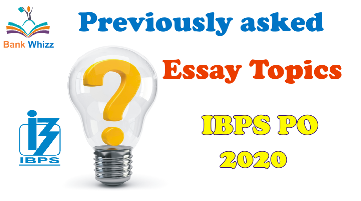 Dear Aspirant,
IBPS PO Exam is one of the most prestigious exams in India. Its preparation requires a lot of hard work, perseverance, and a keen insight into its pattern and trends over the years. You need not be an expert in writing skills to fetch better marks in the descriptive English section rather you should practice on a list of most probable topics on essay and letter on a virtual platform which should be similar to that of the actual exam under expert guidance. Also, you should go through previous year's essays and letters asked to get familiar with the pattern which is going to be asked this year.
Please, don't take this paper for granted. Throw yourself into preparing for this paper right from now so as to fix one seat for yourself.
Please, mark the following:
1. The Descriptive english will be of 30 minutes duration with 25 marks.
2. This Test will contain questions from Letter Writing & Essay topics.
3. Word limits for Essay writing is 250 words & for Letter Writing is 150 words.
Now, start preparing Essays & Letters with Bankwhizz. You had better prepare on a virtual platform under the guidance of some expert. Bankwhizz provides you with such a platform where you get holistic approach to its preparation.
Bankwhizz has provided following previous year essay topics which were asked in IBPS PO –
IBPS PO 2019 – Descriptive English
The descriptive test carried 25 marks. Questions were asked from Letter and Essay.
Essay Writing Topics (word limit 250 words)
Ethical Banking
Influence of Social Media
Contribution of Unorganised Sector in Indian Economy
Pros and Cons of 4 days working in a week
FDI in retail sector
IBPS PO 2018 – Descriptive English
This section was of 25 marks with a time limit of 30 minutes.
Essay writing (200 words) – Write an Essay on any one from the given 5 topics.
Does India I;pids a universal Health Care's System?
What is Fake news? How to Identify and avoid them?
Pros & Cons of a NOTA while voting in an election.
Advantages of learning foreign languages.
Many magazines have stopped the printing physical copy and switched to the Digital Mode due to the lack of readership – Discuss
IBPS PO 2017 – Descriptive English
English Language (Letter & Essay Writing) for 25 marks, time limit 30 minutes.
There were 3 Essays and 3 Letter Writing Topics from which a candidate has to choose:
Essay topic
Which reform in Indian education can be compared with International level
Advantages and Disadvantages of Cashless economy
Effects of gadets on intellectual capabilities of humans
IBPS PO – 2016
No descriptive paper
IBPS PO – 2015
No descriptive paper