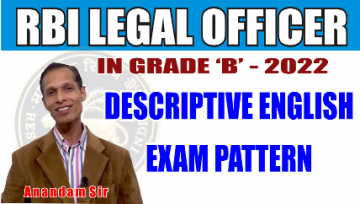 The recruitment panel of the Apex Bank of India RBI has released the vacancies for the posts of Legal Officer in Grade 'B', Architect in Grade 'A', and the others for the year 2022. The notification date is January 15, 2022.
RBI addresses the eligible candidates at the very outset of the notification how life with RBI is a commitment to serve the Nation, where their decisions make an impact on the way the economy and the financial sector in the country evolve. RBI exhorts them to come to RBI if they are looking for an ecosystem that encourages continuous learning, an equal opportunity work environment, a supportive HR climate and, of course, an attractive compensation structure. It further says that an exciting array of job roles are handled by our officers that is to say the recruited officers depending upon their postings.
RBI provides a prestigious career with a lucrative salary of Rs. 1 lakh sixteen thousand.
The Legal Officer Post requires
Bachelor's Degree in Law and the Bar Council of India with a minimum of 50% marks.
It also requires two years of experience in practicing law as an Advocate or Legal Consultant or Legal Assistant after being enrolled with the Bar Council.
The maximum age limit is 32 years as on January 01, 2022.
The selection will be through Online and Offline Exams and interviews. The exams will consist of Objective and Descriptive Type Questions
There would be two Papers set in the exam. Paper-I will comprise objective and Descriptive Type Questions but Paper-II will fully be based on English which will be strictly descriptive in nature. It will carry 100 marks, and you will get 3 hours' time, which is good enough to submit all the answers.
Descriptive English Paper would definitely be a game-changer paper and you must not take it for granted. As per the handouts released last year in 2021, the Descriptive English Paper comprises four sections
Essay carrying 40 marks
Précis carrying 24 marks
Comprehension carrying 16 marks, and
Letter, Report, or circular carrying 20 marks
For the post of Architect Grade A, the descriptive English paper will comprise four questions
Précis writing
Comprehension
Official letter writing, report writing, etc
Etc. implies that essay writing may also be there replacing either report or letter. For 4 questions, 75 minutes will be allotted and maximum marks will be 100.
Bankwhizz is a fully specialized platform for Descriptive English Preparation. We assist you with exclusive fodder materials of essays, précis, comprehension, letters, and reports fully updated to date. Besides fodder materials, we provide you with an exclusive facsimile interface of Descriptive English Mocks- sufficient in number. Mocks are available section-wise and full length. You get the evaluation of your answers within 24 hours' time from our experts. You can ask doubts regarding your evaluation directly from the experts.