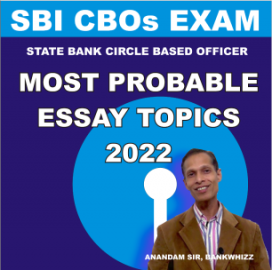 A very big opportunity is knocking at your door. The most reputed public sector bank State Bank of India (SBI) has released a good many vacancies for Circle Based Officers (CBO). The number of vacancies is 1226.
You must know of the working profile of a State Bank Circle-based officer. Unlike SBI POs who get their posting anywhere in India irrespective of the language they know, irrespective of the culture they are familiar with, irrespective of their food habit they are in, the circle-based officers, on the other hand, get their postings in a circle of their choice, where they feel very much convenient to work. So, keeping this in mind, you should cash in on this golden opportunity, where you will get your postings according to the circle you will choose while filling up the form.
So, throw yourself in preparing for this exam wholeheartedly. Focus on all the papers with equal weightage. As you know, the exam pattern is based on objective and descriptive-type questions, like that of the SBI PO exam.
If we talk about the Descriptive English Paper, it has two sections-essay and letter- carrying 50 marks. You need to submit both answers in 30 minutes. The merit list will be drawn on the basis of the aggregate marks scored in the online written test, ie. in the second phase of the exam. There is no sectional qualifying marks. Hence, get, set, go for this exam.
For the descriptive English exam, Bankwhizz Expert Team is releasing some highly important essay topics to be prepared on. Before I talk about all such essay topics, let me tell you that the Descriptive English Paper is open-ended in nature and so you can make a better score with a little effort made, and thus you can make up for the loss of marks in the objective paper of the exam. In this way, you can qualify for the Interview phase. So, never take this paper for granted. Prepare for this under the guidance of experts for maximum marks. Bankwhizz is fully dedicated to the preparation of this paper. You get an ample amount of study materials along with descriptive mock tests and the submitted mocks are evaluated by our experts on various parameters for sizeable improvement.
Now, note all the essay topics to write on. Our topics do match in the exam:
Online Examinations and hacking
Artificial Intelligence: Requirements and Challenges
India is projected to be the world's third-largest economy. Give your views.
Write your views about Surrogate Advertising and awareness about it. Does it help to promote the core product itself in the Indian context?
A record increase in Unicorns will make India a 5 trillion dollar economy by 2030. Give you views.
How Angel Investors can give a boost to the start-up ecosystem in India?
How can the Interlinking of Rivers quench the thirst of the Indian lands?
Advantages and Disadvantages of increasing the legal marriage of girls from 18 to21.
Contribution of Renewable Energy to sustainable development in India.
Drug Trafficking and its impact on India.
Cryptocurrency: A Mine of Controversies.
How is the campaign 'Vocal for Local' boosting India's economy?
Privatization of Banks: Advantages and Disadvantages
The Indian Culture is turning out to be global. Explain.
Nationalist Feeling is helping India grow.
India as a space power.
Handling Fake News
Advantages and Disadvantages of Social Media
Digital India Mission has accelerated the overall growth of India. Explain.
How has Modern Technology made life easier?
Digital Campaign: Political Leaders and Voters
Indian Farming and Value Addition
Ayushman Bharat and Digital Mission
India's self-reliance in the defense sector
Environment and sustainable development
How can e-governance enable good governance?
Restoration and Preservation of Indian Monuments
Solar Energy: A way ahead
Online Gaming: Entertainment and Challenges
Women Empowerment and their Rights