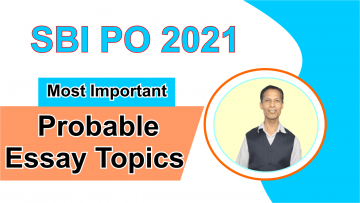 Dear Aspirant of SBI, there is an English proverb, 'An early bird always catches the worm'. The earlier you start preparing for the exam in a balanced way, the more chances are there for final selection. Never, commit a blunder of average aspirants, who think that they should first of all focus on the first phase of the examination. If their result is positive, then they should focus on the next phase. But, they get less time than required for sound preparation and fail to get at the final destination. So, rather focus on all the phases equally as only the winner is valued.
Keep it in mind, 'Jo jeeta wahi sikandar'. So, try to be a Sikandar. Bankwizz is providing you with some highly important essay topics on which you should prepare properly. You'll get the model answers to these essays in our paid courses along with descriptive English mocks available with evaluations by our experts within the least possible time so that you can analyse your answers properly before your curiosity of knowing the results cools down.
Now, note down the essay topics which are most likely to be asked in the examination.
'Pros and Cons of Lockdown'
Prevention is better than cure
Should schools be opened under some strict COVID-19 guidelines
Availing Online Education to all and its challenges on its way
How to bring back normalcy in economy among the general public
Impact of COVID-19 pandemic on Tourism Industry
Impact of COVID-19 pandemic on Real Estate Business
Scope of 5G technology in India
Handling depression among the masses owing to Covid-19 pandemic
Ensuring employments after the lockdown
COVID-19 is marring children's future
World's largest COVID-19 vaccination programme
Handling depression among the masses
Challenges of conducting examinations during the pandemic
Challenges of Inclusive growth in India
The importance of Communication Skills for Success in life
The importance of Team work in an organization
The Importance of good decision making in an organization
The Importance of Art and Culture in Life
The plight of Old People in old age homes
Handling Fake News
Promotion of Electric vehicles
Challenges on the way to digital India
Role of Social Media
House to All
Universal Health Coverage in India
Value of Vote in Indian Democracy
Stress among the youth
Acquisitions and Mergers of banks
Privatisation of Banks and its ill effects on the masses
Handling bad banks
Disinvestment of PSUs
Promoting UPIs among the masses: Their advantages and disadvantages
Challenges before Nationalized Banks
These are some highly important topics, which may have some change in the use of wording; but all these essay topics will definitely prepare a firm ground on which you can deal with any kind of essay quite well in the actual exam. In case, you have any problem, please, feel free to get registered with bankwhizz.com for free. Our experts will try their best to help you write better. Different packages for Study notes and Descriptive Mocks are available with quality assistance with our experts.
All the best!