SEBI Grade A Phase 2 Descriptive English – Analysis
Introduction: The SEBI Grade A Phase 2 descriptive English is an important examination that requires candidates to demonstrate their comprehension and analytical skills. This article provides a concise analysis of the paper and highlights the key topics and question types. Understanding the exam structure and content can help candidates prepare effectively and enhance their chances of success.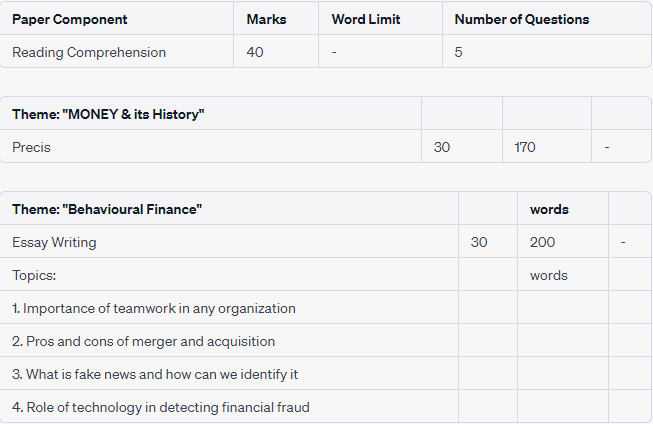 Note: For the Reading Comprehension and Precis sections, the word limit is not specified. The Precis section has a word limit of 170 words. The Essay Writing section requires choosing one topic out of the four provided and has a word limit of 200 words.
Reading Comprehension on "MONEY & its History":
Marks: 40
Number of Questions: 5
Theme: "MONEY & its History"
Focus: Candidates were tested on their ability to comprehend and analyze passages related to the history and significance of money. It is important to thoroughly understand the topic to answer the questions accurately.
Precis on "Behavioural Finance":
Marks: 30
Word Limit: 170 words
Theme: "Behavioural Finance"
Objective: Candidates were required to write a concise and coherent summary of a given passage on the topic of behavioral finance. This task assessed their ability to identify and convey the main ideas effectively within the given word limit.
Essay Writing:
Marks: 30
Word Limit: 200 words
Candidates were instructed to attempt one out of the four essays provided.
Essay Topics:
a) Importance of teamwork in any organization
b) Pros and cons of merger and acquisition
c) What is fake news and how can we identify it
d) Role of technology in detecting financial fraud
Key Tips for Essay Writing:
Analyze the topic: Understand the central theme and key points related to the chosen essay topic.

Structure your essay: Organize your thoughts and present them in a logical and coherent manner. Use an introduction, body paragraphs, and a conclusion.

Support with evidence: Use relevant examples, statistics, or real-life scenarios to strengthen your arguments and demonstrate your understanding.

Word limit: Adhere to the specified word limit. Be concise, yet comprehensive in your writing.

Proofread: Take time to proofread your essay for grammar, punctuation, and spelling errors. Ensure clarity and coherence in your writing.
Conclusion: SEBI Grade A Phase 2 descriptive english requires candidates to demonstrate their comprehension, precis writing, and essay writing skills. By understanding the exam structure and focusing on key topics, candidates can effectively prepare and perform well in the examination. Practicing sample questions and essays on related topics can further enhance their performance. Good luck with your preparation!