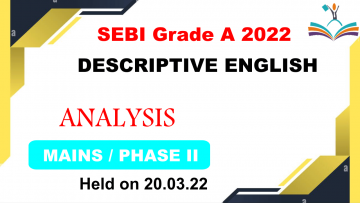 The Paper carried 100 marks and the answers were to be submitted in 60 minutes. The response received from most of the aspirants was quite positive, as the paper was not so hard as was expected. However, a few of them found the interface a bit hard. There were two different passages one for the précis section and the other for the RC section.
The Descriptive English Paper comprised three questions, which are as follows:
Essay Writing, carrying 30 Marks, to be written in 200 words
Précis Writing, carrying 20 Marks
Reading Comprehension carrying 40 Marks
The following four Essay topics were asked:
Asset Reconstruction in Companies and its functions
Role of Banks in Financial Literacy (From our Fodder Materials)
Mental Health and its impacts
Techno Stress and its impact on students and teachers
The Précis Writing was related to food and their nutritional value. The given passage was to be reduced to around 150 words
Reading Comprehension was related to the technology used in the agricultural sector.