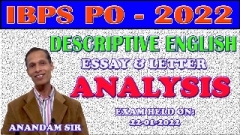 The IBPS PO Main Exam took place on 22nd January 2022.
As usual, the topics asked in the exam matched those of the Fodder Materials. The following is a detailed analysis of the essays and letters asked in this very exam:
Note: The essays are equally important for the coming exams RBI, NABARD, SEBI and the others.
Essay and
Letter
The essay was to be attempted in 250 words and the letter in 150 words. The time for this paper was 30 minutes, and the paper carried 25 marks.
The following essay topics were asked:
Modern technology makes life easier
The impact of Fuel Price Rising / Global Impacts of Increasing Fuel Prices
Let's discuss the first topic entitled 'Surrogate Advertising'.
'Surrogate' means 'Substitute' or 'Duplicate'. You may have heard 'Surrogate Mother' which simply means 'A mother who is a substitute for the original mother', or 'Duplicate Mother'. Thus a surrogate mother bears a child on behalf of another person or couple. Likewise 'Surrogate Advertising' involves 'duplicity'…the duplicity of what…obviously, this is the duplicity of the original product or brand. In technical words, 'Surrogate Advertising or Advertisement' is an advertisement that duplicates the brand image of one product to promote another product of the same brand. The surrogate may either resemble the original product or can be a different product or surrogate altogether.
Now, the question arises why such an advertisement is needed.
Some products like tobacco, cigarette, liquor, narcotics, pan masala and other intoxicants cannot be sold directly, as they have been banned on mass media. But, the companies of such products need to sell them, and 'surrogate advertising' gives them leeway to sell such products. We have many examples such as liquors being sold under the brand name 'Kingfisher', which promotes everything ranging from bottled water to soda. Plain pan masala that does not contain tobacco can be advertised on television, even though it contains betel nut which is a known addictive. Amitabh Bacchan does surrogate advertising of 'Pan masala', Shahrukh Khan the liquor after the name of 'Bag Piper', etc.
I hope, you have got the point.
The second essay topic was 'Modern Technology makes life easier.'
You're required to write about how modern technology makes life easy enough. The essay content must revolve around this idea. Modern technology has tried its best to beat the atrocities of nature. It has invented an air conditioner that is to say AC to beat the severity of increased or decreased temperature in the atmosphere. We have fast internet connectivity to reach out to our dear ones irrespective of time and place.
The third topic was 'The Impact of Fuel Price Rising'.
This is a very common topic; a lot can easily be written on this. The topic is closely associated with our day-to-day life. It has a direct impact on our life. So, there is nothing tricky in dealing with this essay topic.
Let's analyze the letter section of the IBPS PO Main Exam 2022.
The first topic was:
Write a letter to a Bank Manager asking for a bank statement for legal purposes.
The topic is not so hard. You must know that a bank statement is required by investors, creditors, lenders, business managers, and owners of financial institutions. It is required to file income tax returns. It is required to match all transactions made via a bank with those of the accounts kept by a business firm etc. It is also required to get admission to a foreign university. A bank statement is considered a legal document. Under this letter topic, you ask for a bank statement to find out whether any fraudulent transactions have been made by some unidentified elements.
The next letter topic, too, is formal. It is on:
A letter to the Editor on restoration and preservation of Historical Monuments
Historical monuments in India are the Taj Mahal, Gate of India, Kutub Minar, Konark Temple etc. You are required to mention all such that can restore and preserve such monuments, such as spreading awareness campaigns to educate communities, promoting the adoption of monuments, bringing strict government actions against an act of vandalism, terrorism etc.
The next letter topic was:
Spreading awareness programmes for farmers
There are many awareness programmes for farmers going on in the country such as 'Digital financial awareness campaigns, climate awareness campaigns, FPO development programmes, market access programmes, etc.
Bankwhizz is fully specialized in assisting you with the preparation of Descriptive English Paper in a holistic manner. You will get updated fodder materials for all sections whether it is relating to letter writing, essay writing, précis writing, report writing or circular writing. You will get more descriptive paper mocks with evaluation than other platforms provide at very reasonable fees. Our experts are fully dedicated to dealing with all your concerns regarding the paper.