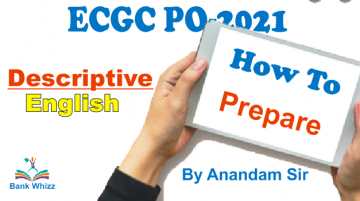 ECGL Ltd (Export Credit Guarantee Corporation of India Ltd.) is wholly owned by Government of India with the objective of promoting exports from the country by providing Credit Risk Insurance and related services for exports. It functions under the administrative control of Ministry of Commerce and Industry and is managed by a board of Directors comprising representatives of the Government, RBI, Banking, and Insurance and exporting community.
ECGC PO is a salaried post with respect; however, it is not a big government organization as it comprises only 600-700 employees. The growth prospect is good. Hence, this is a good career opportunity.
As far as the difficulty level of this exam is concerned, it is almost similar to that of SBI and IBPS exams. Hence, the aspirants preparing for general banking exams must go for it as well.
ECGC PO Exam, is held in two phases:
Online Written Exam comprising Objective and Descriptive Type tests on the same date and
The Online Written Exam comprises Reasoning Ability of 50 Questions, 50 Marks, 40 Minutes, English Language of 40 Questions, 40 Marks, 30 Minutes, Computer Knowledge of 20 Questions, 20 Marks, 10 Minutes, GA of 40 Questions, 40 Marks, 20 Minutes, QA of 50 Questions, 50 Marks, 40 Minutes. Thus the Objective Type Test comprises total 200 Questions for 200 Marks. The time allotted is 140 Minutes.
The Descriptive Paper Test comprises two sections: Essay Writing of 20 Marks and Precise Writing of 20 Marks and the time allotted is 40 Minutes.
It must be noted that as per the notification, the marks of the Descriptive Paper (English Language) will be reckoned for merit listing. It will only be evaluated for those candidates who qualify in the Objective Type of Tests and are placed adequately high as per total marks in the Objective Test. So, you need to make the strategy for the preparation accordingly i.e. you need to focus equally on both the sections:
How to prepare for ECGC PO
Bankwhizz provides you with a full package for the Descriptive English Paper comprising: Online Section-wise and Full-length Essay and Precis Mock Tests with a 360 degree evaluation by our experts.
Your Career matters. We care.