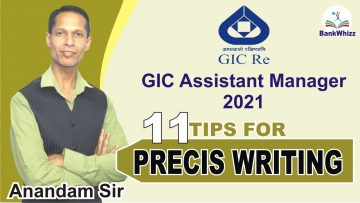 Dear Aspirant,
As you know that the Descriptive English Paper of GIC Assistant Manager Exam will carry 30 marks and you're required to submit your answers in one hour. There are three sections
Essay
Precis and
Reading Comprehension.
Note: The given passage is most likely to be the same for précis and comprehension.
The passage for précis will consist of around 450 words and you are required to write the précis in about 150 words.
Please, note the following to write an effective Precis for better marks:
Attempt the Passage first and then switch to writing the précis as it will give you clear perception to deal with the précis in a better way.
Don't start writing the final précis as soon as you come across the passage. Stop being panicky.
Read the passage carefully twice and find out what the passage is all about. Keep noting in mind the most important points in the mind or jot down such points.
Provide the title of the précis. Generally, the passage makes the title clear either in the first paragraph or in the last one.
Once the title is provided, you are required to write the précis with all the points revolving around the title. In other words, all the points must justify the title.
Please, write all the necessary points in one paragraph until it is necessary.
Don't use bullets. In other words, don't write the necessary points pointwise. Write the points in full sentences.
Use your own language; however, the technical terms used will remain the same.
While writing the précis, you're required to feel free to use the sorted out points anywhere in the answer. But, always keep in mind that there must be a logical link with all the points to read coherently.
Avoid using idioms and phrase or any notion as these use extra words.
Don't exceed the word limit else your marks will be deducted. However, the word limit of your final Précis may exceed 8-10 words or fall behind by 8-10 words.
Now, your effective and thus marks-fetching précis is ready.
Bankwhizz provides you with an ample number of Precis mocks. Register for free for any guidance regarding Descriptive English Paper.
All the best!