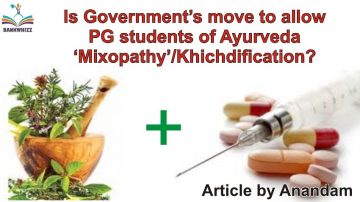 On November 19, a government notification listed out specific surgical procedures that a postgraduate medical student of Ayurveda must be "practically trained to acquaint with, as well as to independently perform".
The Central Council of Indian Medicine which is the regulatory body for the study and practice of Ayurveda in India, amended the Indian Medicine Central Council (Post Graduate Ayurveda Education) Regulations, 2016, to include the regulation to permit post-graduate students of Ayurveda to be specialized in Shalya Tantra (referring to general surgery), shalakya Tantra (referring to the diseases of the ear, nose, throat, head, eye, and oro-dentistry) and Prasuti evam Stree Roga (referring to Obstetrics and Gynecology). Students of these three disciplines are granted MS (Master in Surgery in Ayurveda) degrees.
The notification by the Council brought about a lot of furore from the Indian Medical Association (IMA), which called it 'mixopathy' or 'khichdification' in the sense that modern medicine and traditional medical science cannot be mixed together; both should move on individually. IMA questioned if the efficacy of Ayurveda practioners can carry out surgical procedures.
Let us discuss this issue point-wise whether the latest move by the government deserves to be called 'mixopathy' or 'khichdification' of 'Ayurvedic Science'.
Ayurveda has had a very vibrant surgical history. Shushruta (The father of The move to allow PG students of Ayurveda to carry out surgery is just revitalizing the age-old rich tradition of India. So there should not be any criticism about it.
The surgeries that have been mentioned in the notification are all that are already part of the Ayurveda course. These surgeries are 58 in number and each PG student must train themselves in such surgical procedures and acquire skills to perform independently. Through the notification, the government has just made this fact known to all and so no objection should be raised.
Ayurveda practitioners are proud of using the methods and practices as mentioned in Sushruta's comprehensive treatise 'Sushruta Samhita'. 'Sushruta Samhita' gives a detailed account of surgical procedures and instruments and their proper use. The medical practitioners are already familiar with such procedures. Many government-run Ayurveda institutions perform a number of major and minor surgeries every year successfully. The National Institute of Ayurveda in Jaipur, claims to perform at least 1,000 major surgeries a year and so there is nothing to criticize about the government's move.
The Ayurveda surgeons perform surgeries related to the eyes, ears, nose, throat and teeth. Some Ayurvedic surgeries are even copied by modern medicine. So, the move by the government in this connection cannot be questioned.
The government's move is not 'mixopathy' or 'khichdification' as Ayurveda knows its limitations. The super-speciality surgeries like neurosurgery, heart or kidney transplant do not come under its curriculum. It has nothing to do with replacing any body organs. Its motto is to heal the body organ not to replace it. It has been gaining its firm ground with its own capacity. Hence, it is not 'mixopathy'.
Like the students of modern medicine, the students enrolling in Ayurveda courses have to undergo rigorous studies. They have to pass NEET (National Eligibility-cum-Entrance Test). Their course runs for four-and-a-half years, followed by one year of internship, six months of which are spent at an Ayurveda hospital, and the remaining six months at a civil or general hospital, or a primary health care centre. Postgraduate courses require another three years of study. They also have to undergo clinical postings in the outpatient and In-patient departments at hospitals apart from getting hands-on training in Ayurvedic treatment procedures. Medico-legal issues, surgical ethics and informed consent are also part of the course apart from teaching Sushruta's surgical principles and practices. So, the latest notification does not deserve criticism.
Conclusion
IMA national president Dr R Sharma says, 'Modern medicine is controlled and research-oriented, we are proud of the heritage and richness of Ayurveda but the two shouldn't be mixed.' The point is that Ayurveda Science has its own course. It knows its limitations and is moving on its own track, making one stride after the other splendidly. Shushruta who is the father of surgery and who lived almost 2000 years ago gave birth to numerous surgical procedures many of which are copied even by the modern medicine. It must be noted here that India's mortality rate of COVID-19 is notably lower than that of other countries despite India's being densely populated. It is possible only by the decent work by both modern medicine and Ayurveda Medicine. Both have their own treatise they should be proud of.