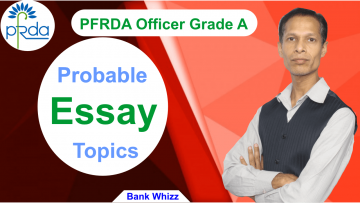 How to prepare for Essays for the PFRDA Officer Grade A 2021 exam?

Dear PFRDA Aspirant,
PFRDA that is to say Provident Fund Regulatory and Development Authority headquartered in New Delhi, has the objective to promote, develop and regulate the pension sector in India. At present, it is regulating NPS that is to say National Pension System, which is subscribed by the employees of the Government of India, State Governments, and by the employees of private institutions or organizations and unorganized sectors. But, very recently Finance Minister Nirmala Sitharaman has announced that the NPS Trust will be separated from the PFRDA with appropriate organizational structure, keeping in view the wider interest of the subscribers. So, NPS is going to be an independent body of PFRDA.

PFRDA issues fresh vacancies almost on a regular basis ensuring lucrative salaries to its employees. As you know that the number of vacancies is very less, however, the aspirants for regulatory body exams must take part in its process. The syllabus is almost the same.
Bankwhizz regularly issues the most probable essay topics for all such exams, and I feel pleased to declare that the topics do match in the concerned exams whether it is NABARD, RBI, SEBI, SBI, GIC, IBPS, or the others.
The PFRDA Descriptive English Exam will consist of 3 questions most probably Essay, Précis and Comprehension. 100 marks have been allotted to these questions. You are required to submit all three answers within 60 minutes.
The following are the most probable essay topics you should prepare on:-
PFRDA has allowed foreign companies to hold up to 74% stake in pension funds. Do you think that it will boost the pension sector in India?
At present PFRDA is regulating NPS Trust. What will be the positive effect after making NPS Trust an independent body?
Discuss in detail how PPF is different from NPS. Also, discuss which is the better?
How is NPS a better option?
Is it the right decision to invest the pension money into IPOs, NSE-200 companies? Give your views.
What is meant by BPL (Below Poverty Line)? What are the criteria for labeling anyone as BPL? How is Poverty Line determined in India?
Importance of Universal Human Values in Education
Are Robotics and AI the future of workplaces?
Women's Economic Empowerment is crucial for achieving gender equality. Discuss.
Make-in-India is bringing about a revolution in the Indian economy. Do you agree? Give your views.
Fake News and how to handle it
Contribution to AI to Education Sector
Online Vs. Offline Education
Can India be a Toy-hub replacing China?
Sustainable Development and its Challenges
Electrical Vehicles: the future vehicles
Four Days week Work Rule: Is it feasible?
Reviving the Indian Economy after the severe hit by COVID-19 pandemic.
Role of Social Media
Making Media impartial
Scope of 5G Technology in India
Higher Education: Issues and Challenges
Value of Vote in Democracy
Stress Among the Youth
Health and Wealth or Money is Wealth
The Importance of Communication Skills for Success in life.
The Importance of Team Work in an Organization
Should Digitalization and Internet be right or luxury?
Increasing number of people living in Old Age homes. Different opinions between elders and young ones.
Underemployment or Unemployment: which is worse?
Ensuring Employments to All
Future of Virtual Currency- scope in India
Vocal for Local – Will this idea satisfies the Indian market?
Women Entrepreneurship in India
Artificial Intelligence – the pros and cons
Is India ready for Cyber security challenges?
Virtual meetings and its challenges
Role of MSMEs in making India a 5 trillion dollar economy.
Universal Health Coverage in India: Challenges
Towards 5 Trillion Dollar Economy: Is it a reality or a myth?
Unorganized sector in India – a big barrier on the way to Fast Economic Growth

Wish you all the best!